The Best Live Chat Software in 2020: LiveChat Inc. vs Olark vs Tawk vs Zendesk vs Intercom vs SnapEngage vs FreshChat vs Kayako vs Comm100 vs BoldChat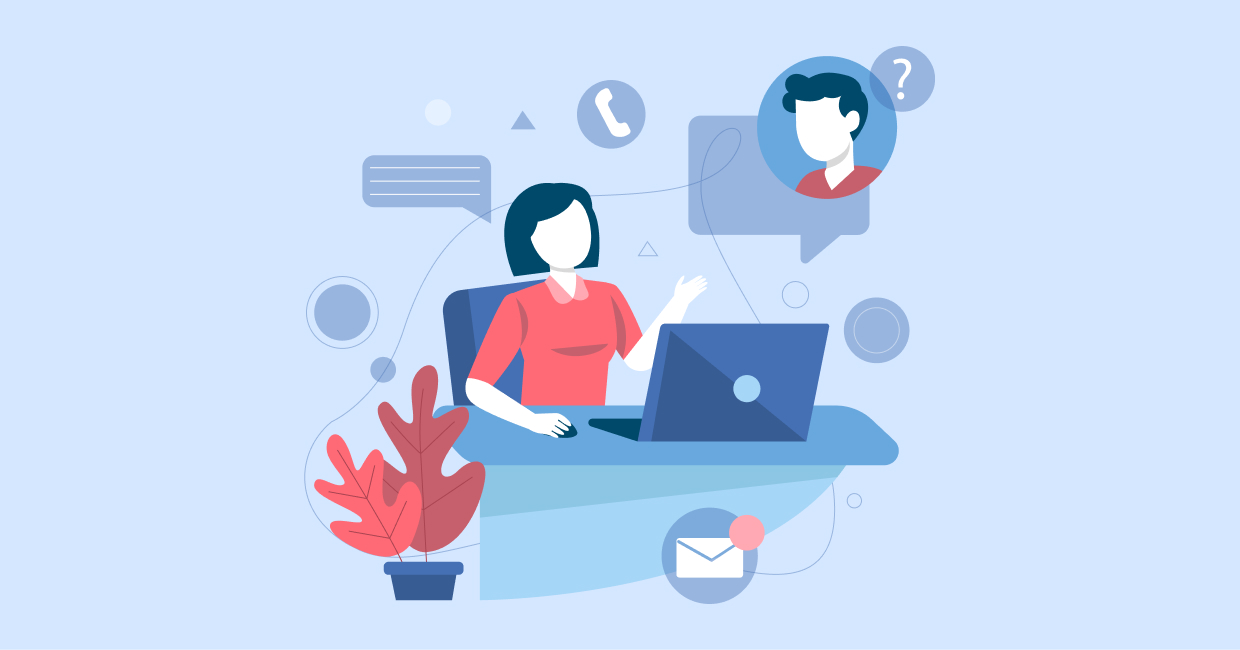 If you are running an online business, you have access to more sales and support tools than ever before. Customer care, emails, social media, and even WhatsApp provides countless ways to communicate with your users and customers. Above all, a new channel is becoming increasingly popular: live chat & in this article you're going to know how to find the best live chat software.
What is a Live Chat?
Live chat is one of the easiest and quickest ways for the customer to find out more about a service or a product.
A chat box sits on the corner of a website on the right side and pops up when the customer wants to bring it up. When the person types a question, usually the answer pops up instantly.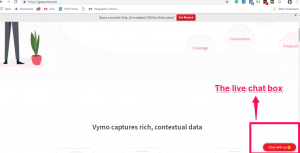 Here's why almost 79% of people love using live chat.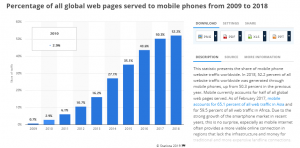 These statistics from a Kayako survey show customers love live chat:
29% of consumers recommend a positive live chat experience to their friends and network.
38% of consumers tend to buy from a company offering live chat support.
51% of consumers stay more frequently or buy from a company if they offer live chat support.
Importance of Live Chat Support in a Website
According to a survey by eConsultancy, live chat has the highest customer satisfaction rate among all customer support channels which is 73%, compared to 61% for emails and 44% over the telephonic support. Not to mention, to imitate the success, you need to use the find the best live chat software for your business.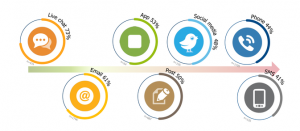 A customer gets instant responses to their queries without leaving the website. Having a positive live chat experience can positively help customers to make a buying decision.
Often, customers use live chat either while making a purchase or while deciding to make a purchase.
Answering the customer query or communicating with them at this stage works. A Forrester research found 44% of online consumers favoring live chat because of its ability to get their questions answered by a live person as the most important feature of a website.
The simple act of answering a question can be a deciding factor between a sale and a bounce.
5 Reasons Why a Business Needs a Live Chat Tool for Their Website:
1 Increase sales and conversions
One of the major benefits of live chat support on a website is the potential for more sales. The American Marketing Association reports the number of conversions in B2B companies to increase on an average by 20% after implementing live chat support on their website.
An eMarketer survey around best live chat software found that 35% more customers made an online purchase after using live chat.
Live chat gives you an opportunity to help your customers overcome their doubts and ease their purchasing decision.
2 Build trust with your customers
When you visit a physical store, the retailer has an opportunity to establish a positive relationship during the sales process. This helps them build trust with their customers. With an online store, this becomes difficult.
Consumers are inherently skeptical while buying products from stores they don't know. Live chat allows you to directly communicate with your customer right from the website. Live chat is the key to build trust and reduce the gap between online and offline shopping.
3 Gain a competitive edge
Live chat with your buyers gives you an excellent opportunity to gain a competitive edge over your competitors.
A study conducted live by Telus International revealed that more than 90% of companies still haven't implemented live chat tools to their websites. In fact, Superoffice surveyed 1,000 websites to conclude that only 9% of the websites use live chat to provide real-time customer support.
4 A better understanding of your customer needs
The key element of a marketing campaign or sales process is to understand the needs of your customers and provide them with the right solution. Not only does the best live chat software provide the opportunity to make an on-site sale, but it also gives access to your customer's mind by collecting the so-called "voice of customer data".
Voice of Customer (VOC) data is a market research tool that assists the business to see from the perspective of their customers. By collecting VOC data, a business can understand the customer thoughts, opinions, and behaviors which can be used to influence the product development, marketing, and growth of a business.
5 Lower the customer care costs
It is no secret that having a traditional customer support unit is expensive. A customer service representative handles phone and email requests. But can you imagine answering two calls at the same time?
According to a study by Telus International, customer service representatives can participate in six simultaneous calls by live chat, depending on the complexity of the issues encountered.
Live chat enables the customer support team to handle multiple conversations simultaneously, thereby reducing the number of team members needed to handle customer service requests. If that's not enough to convince you, live chat costs 50% less than phone support.
What to Consider while Buying a Live Chat Software?
Realizing the purpose of the live chat tool and ensuring that it matches your company's goals is crucial while defining your business success. When choosing a live chat support tool for your business, consider the following:
1. Cloud-based or self-hosted:
Self-hosted services are hosted by your company's technical infrastructure while cloud-hosted software runs by a third-party server. Although the choice depends on the needs of your business, many of the best live chat software are now available as cloud hosting applications. Cloud-based tools are regularly updated, do not require IT infrastructure, come with error checking, 24/7 support and security along with backups and data recovery.
2. Value vs. Price:
Choosing the cheapest option is not necessarily the best option. While other chat tools and packages may have a higher price, but their advanced features could add value to your business by bringing higher returns in the long run.
3. Easy customization:
As we know, branding is important for every business. All the elements of your website must provide a consistent visual experience, including the live chat interface. Selecting the customizable live chat tool is important to uniformly promote your brand, including customization of languages, discussion banners, colors, styles, and fonts.
4. Third-party software integrations:
The seamless integration of your software with the latest business tools is crucial for a comfortable and smooth flow of data.
5. Security:
Protection against hacking and data breaches is a top priority for a business. The manufacturer's active firewall, the infrastructure used, backup plan and privacy policy are some of the things you should consider before you buy any live chat tools.
6. Onboarding:
Choosing a user-friendly live chat tool is important so that you do not waste time in understanding how to configure and use it. There are many options that can easily be integrated into your website by copying discussion codes and pasting them into the web page. You can start it with just a few tweaks.
7. Mobile Support:
In 2018, 52.2% of all website traffic worldwide was generated by mobile phones, reported Statista. The best live chat software is the one that can serve customers on multiple devices, including iOS and Android.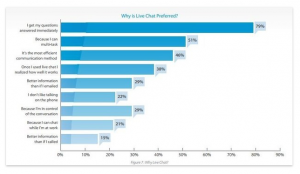 8. Single or multi-channel support:
Some live chat tools offer 360-degree support, integration features for call-back support, knowledge base and NPS surveys.
9. 24/7 Support around the clock:
The live chat tools must be able to communicate with your customers 24 hours a day, 7 days a week, 365 days a year, and request help as needed.
Top 6 Best Live Chat Practices to Provide Premium Customer Service
Customer service no longer depends upon telephone or e-mail support. Customers expect quick solutions to their questions. Live chat enables companies to provide instant customer service in real time.
6 Live Chat Best-Practices to Deliver Exceptional Customer Support
1 Place the live chat support window below the right corner
The first step towards an efficient live chat customer support is to think like a customer.
To enhance the customer experience, place the live chat on the right side of the website. So, when a customer opens a window on your site; before proceeding further, he will notice the live support feature on the website.
2 Be quick to respond to the chat
Don't let your customers wait while initiating a chat request. According to live chat statistics, nearly a fifth of customers considers long waiting times as the most frustrating part of live chatting.
Nobody wants to be in a queue. The only way to improve your live chat support is to accept the chat request immediately upon requests. Do not keep your customers, visitors or leads on hold!
3 Greet Your customer
Use predefined answers at the beginning of a discussion to greet the customer, to save time when managing multiple discussions simultaneously.
The chat representative has to be professional and friendly at the same time. A good example would be:
"Hello, Henry. Thank you for contacting XYZ Support. How can I assist you today?"
4 Treat complex inquiries as several smaller ones
It's easy to misinterpret a problem, especially if you are engaged in multiple discussions at the same time.
If a customer has multiple requests, the best solution is to answer them individually after the customer has finished writing. Answering their questions is just a small step in meeting your customers' needs. The real help comes when you understand what they really need and can offer the best options for them.
5 Offer a detailed solution
Provide the solution in detail and cover related conceptual and technical aspects. Explain how you found the solution so that the customer can learn from it and will not have to contact the help-desk again for the same question.
If a solution is available in different ways, it is advisable to share all possible means with the customer so that they can prefer one solution to another.
Think about future issues the customer might encounter in relation to the initial consultation, and treat them in the same chat session to avoid further hiccups.
6 End the chat on a sweet note
End a discussion session in a sweet note.
You can respond with: "Thanks for shopping with us. I'm closing our session right now but don't hesitate to reach out again on in the future if you need assistance for anything".
Ask the customer if they are satisfied with the solution or would they want any part to be reviewed again
With these 6 best-practices, you can maintain a structured approach towards providing high-quality live chat support.
Best live chat software in 2020: LiveChat vs Olark vs Tawk vs Zendesk
Here are the 4 best live chat tools, suggested based on their features, usability and reviews.
LiveChat is a live chat application and support center for your customer service teams. It is accompanied with tools you can use for online sales and marketing, web analytics, and live customer support. The platform allows you and your team to talk to live and potential customers directly and in real time from the websites.
LiveChat consists of three main components: a web chat window, a web control panel, and an operator application. The operator app has cross-platform capabilities to connect and chat with visitors through desktops and mobile devices.
LiveChat offers a variety of features and the greatest number of tools among the best live chat software over the internet.
In addition, you can conduct activities such as the sale of tickets, customer engagement, file integration, advanced reporting, job scheduling, data security, multiple brands, shared navigation, geographic mark-up, surveys and more.
Features include real-time monitoring of website traffic, dashboards, and statistics, efficiently analysis and generate custom/standard or interactive reports.
A main differentiator of LiveChat over their competitors is multi-language support in 45+ languages. If you have a website in multiple languages, using LiveChat you can assign dedicated language support for each webpage.
Since more than a decade, LiveChat is an online chat solution trusted by major brands such as Tesla, PayPal and McDonald's. The integrations include e-commerce platforms, CRM, sales tools, email marketing providers, accounting tools and content management.
LiveChat Features
Easy Customization
LiveChat offers a full set of customization options with two types of chat windows (contextual or built-in), six predefined themes for shrinking or enlarging the chat window, the custom chat window logo, and customizable chat buttons.
Their own custom CSS editor gives more flexibility and control, such as customization option to change all areas of the chat window, both in appearance and in behavior. You can also add your own social media buttons for customers to access your company pages directly from the chat.
You can customize agent profiles, with names and real photos for the best results.
Real-time traffic monitoring
With LiveChat, you can also track your visitors in real time. You can check if customers are using a shopping cart or placing an order. Your technical support representative can speak to more customers in less time than a telephone agent.
The software can quickly generate reports for each agent in your support team and analyze the number of conversations, the time spent on a customer, or the invitation to chat.
Team management
LiveChat offers a variety of reports and chats tickets to identify areas that can be optimized and improved. You can also measure the duration of the chat, the first response times, and the visitors in the queue.
These reports, along with employee forecasts, can help to adjust the number of agents required to cover the customer queries.
Developed for e-commerce and customer support
As an ideal online chat software tool for e-commerce, LiveChat not only provides an effective and reliable communication platform to the customers but also tracks the sales goals for your business. Integrate a few lines of code into your websites and you're up and running with real-time chat sessions.
Pros and Cons of LiveChat
Pros-
Well designed: Easily customizable and you can add your personal branding.
A large pool of apps and features: LiveChat comes with a variety of features including their own helpdesk and chatbot.
Platform Apps: LiveChat is compatible with both desktop and mobile and is easily integrated with iOS, Android or Mac. Additional features include session time out.
Different pricing plans: LiveChat comes with 4 different pricing plans according to the needs of the business.
Cons-
Expensive, but worth it: LiveChat is slightly expensive as compared to other best live chat software, but its features worth it.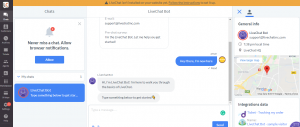 LiveChat Pricing
Starter Plan: $16/mo.
Fit for small or home offices.
Team: $33/mo.
Suitable for a full-time support team.
Business– $50 /mo.
Suitable for a customer service department.
Enterprise– $149/mo.
Solution for Fortune 500 companies.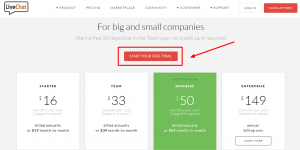 Start using LiveChat with 30 Days Trial Now!!

Is LiveChat the right tool for you?
Working with LiveChat is easy and is quick to set-up. The ticket sales system is a feature that sets them apart from their competitors. With LiveChat, offline messages can also be processed by your support staffs with different statuses (pending, open and resolved).
This is not the cheapest live chat software, but certainly one of the best. The support is first class and the user experience with the tool is just fantastic.
Olark is one of the most popular live chat support platforms for 12,000 customers in 175 countries. The simple and intuitive design allows businesses to gain more than just proactive real-time discussions for customers.
Powerful features and robust integrations enable businesses to easily and efficiently create and manage customer relationships, get a differentiated view and track the customer activities on the screen.
Olark Features
Easy Customization
Olark offers several easy ways to customize the look of your chat window. You can use a color wheel or a hexadecimal number to integrate the colors of your brand.
Customers are more willing to engage with chatboxes that are visually consistent with the look of the website. Olark allows you to easily adjust the colors, shape, and position of the chatbox which can be further updated as your brand evolves over a period of time.
Automated messages
This feature is ideal for new businesses and small businesses. A small business may not need a 24/7 live chat agent, nor can afford one. Often, it becomes impossible to answer support queries at all times.
This feature allows you to send automated messages based on the browsing behavior of the visitor, the reference URL, or the location. This saves time and allows management to focus on business things.
Real-time reports
Real-time reporting makes Olark one of the best live chat software for websites. To optimize your marketing strategies, get a quick overview of customer reports and online discussions of the agents.
You can know the exact days and times of the busiest chat. This will help to plan your personal schedule. You'll also find out if your customers are satisfied and the topics they deal with frequently. You can identify the pain points and look for ways to resolve and fix them.
Unlimited talks
Olark's free tariff only covers 20 calls per month, but the payment plan offers unlimited calls every month. There are no additional costs if the volume in your conversation is higher than normal. The price per agent for Olark is the number of team members participating in the chat. Your pricing is based on the size of your customer chat team and you can add or subtract members any time. The bill gets adjusted automatically.
Browse transcripts
The transcription panel captures all conversations that take place in the Olark discussion box. This helps the agents to share a conversation with a customer after it is completed and with different teams.
You can see a complete conversation with the name, email address, location, and rank of the visitor. Thus you can filter important discussions using tags, keywords, and a range of data.
Olark's team management tool allows you to monitor agent performance and maintain consistent team responses.
You can also view real-time activity reports that provide valuable information about your agents, and their training can be customized accordingly.
Co-browsing
Olark provides the co-browsing feature for visitors to share their screens while they chat. The agents can offer comprehensive purchase, payment and shipping options. Also, the agents can solve technical problems efficiently with co-browsing.
Pros and Cons of Olark
Pros-
Simple chat tool: It is a simple live chat tool that lets you monitor potential customers and deliver world-class services to them.
Customer information: Gives important information about your customers and provide immediate and effective solutions.
Robust: Olark in-depth reporting enables users to track results and gain actionable insights. leading to better business decisions and business success, as well as customer satisfaction.
Easy customization: Customize and change the layout of the chatbox based on the theme of your website.
Ease of use: Olark is an easy-to-use and set-up live chat tool.
Cons-
It is difficult to email a transcript of the chat you've had to a customer.
Copy and pasting of chat information are problematic.
Screen share sometimes does not work.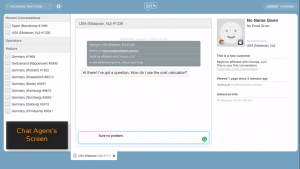 Olark Pricing
Bronze
Monthly Billing: $17/mo.
Annual Billing: $15/mo.
Bi-Annual Billing: $12/mo.
1 Operator
Gold
Monthly Billing: $49/mo.
Annual Billing: $44/mo.
Bi-Annual Billing: $34/mo.
4 Operator
Platinum
Monthly Billing: $129/mo.
Annual Billing: $116/mo.
Bi-Annual Billing: $90/mo.
8 Operator
Groups feature
Ultimate
Monthly Billing: $243/mo.
Annual Billing: $219/mo.
Bi-Annual Billing: $170/mo.
15 Operator
Groups feature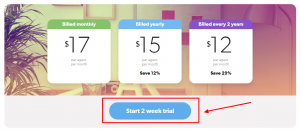 Is Olark the right tool for you?
Olark's browser-supported console is visually appealing and easy-to-use. Visitors can rate their chat experience, which allows you to collect the level of satisfaction a visitor gets from the live chat. The pricing is affordable and the chat window templates are excellent. If you're looking for a co-browsing option, Olark is the best solution.
Olark's live chat tool will help you provide real-time chat support to the visitors of your site. Although you will need another application for email support, this is still a valuable addition to your website.
3. Tawk.to- Visit Website
Tawk.to is an instant messaging and live chat support application for successful communication between companies and their customers. The modern and intuitive Tawk.to was developed to find an effective way to bridge the communication gap.
With Tawk.to, you can easily discuss issues and monitor your customers. The platform allows you to reach your customers directly from your website, mobile application or custom page. The configuration takes only a minute. So you can immediately add employees, create shortcuts and see how you work with the analysis.
In addition to the live chat service, Tawk.to offers a host of other features to customize your own page, initiate animated discussions with your customers, and interact with your visitors with triggers. Quick and automated reply with shortcuts gives Tawk.to an extra advantage to help potential customers.
Tawk.to Features
Easy Customization
With Tawk.to, you can easily create an account and customize your widgets, as well as change chat colors, attention bubbles, and customize the charges. You can completely unify it with your brand by using the "delete brand" feature. With the "delete brand" function, you can insert your own brand to make it look original and professional.
Better Chat Support
This application allows you to listen to your customers and give them full attention as you engage in discussions with automatic activators and predefined links.
There is a directory of 1880 emoji's that can be used by the live chat agent and the customer during the chat.
Multiple Agent and Group Features
With an unlimited number of agents and group features, you can control visitor traffic and serve multiple visitors at the same time, even if you do not have that many active agents. Have other agents join in your discussions to make sure your customers get the help they need.
Multilingual and Intuitive Device Support
Tawk.to is available in 27 languages ​​and works perfectly with android, iOS, Windows and Mac OS, giving you the ability to use all your smart devices.
Pros and Cons of Tawk.to
Pros-
Tawk.to is Free: You can use all the Tawk.to features for free.
Easy Chat Support: Get an easy way to answer users' questions.
Increase Leads: Robust features help in increasing the leads.
Flexibility: You can chat from your computer or when traveling with a mobile app.
Greetings: Greeting templates to greet your customers.
Self-Support: You can support your visitors without hiring a support team or hiring a discussion agent
Cons-
Limited integration support with external tools.
A little bit complicated to use.
Old fashioned design.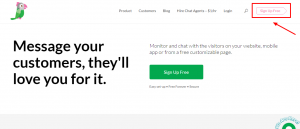 Tawk.to Pricing
Tawk.to can be downloaded and installed for free. Interested users need to sign up the tool for free and they can install it on their website. Users can also buy add-ons like "Remove Branding" which costs $15/month or Hire Chat Agents for $1/hour.
Is Tawk.to right tool for you?
While Olark is a paid live chat service, Talk.to is totally free and offers similar features. If you are testing business and don't want to pay for a live chat service, Tawk.to would be a good choice. However, if you need a more robust option for analysis and reporting, LiveChat or Olark may be the best option.
Zendesk is a set of support applications that transform your customer service into a loyalty program by offering implacable customer support. Companies of all sizes prefer using Zendesk because of the flexible CRM structure it offers.
The features includes support, discussions, a call center solution and knowledge base modules that can be updated separately.
With Zendesk, you can set up a live call center with the web, mobile and messaging channels. Your agents can quickly connect using an auto-trigger. The live-chat lets your customer support team to proactively engage customers on your website or e-commerce site.
The live chat analytics throws light on customer satisfaction, the performance of support agents and helps identify issues before they turn into problems. Statistical reports let you measure success and stay on the right track.
They bill you according to the number of agents in your team, thus the pricing is flexible and scalable. Zendesk chat is free, but you can scale it with unlimited chat, chat tracking, widget tagging, and other advanced instant messaging tools.
In general, Zendesk is a comprehensive and targeted help center suite containing the essentials needed to support your business and can be scaled according to growth rate: ticket system, knowledge base, forum community, live chat, and call center.
Zendesk Features
A wide pool of CRM tools
Zendesk is more than a support center. Their CRM can organize processes, workflows, and track customer loyalty at one place.
Zendesk integrates with popular CRMs such as HubSpot and Zoho, social media channels and numerous other apps. This means that the data collected in Zendesk can be consolidated for later use to develop marketing campaigns and drive new leads into your channel.
Expand your customer service
Zendesk is a complete set of support applications that can adapt to the needs of your business. You can treat it as an end-to-end solution that structures a help desk, a live chat, a knowledge base, a call center, and a community portal around you.
The main support module comes with the "Lite" version of chat, Call Center and Knowledge Base.
Achieve high-quality prospects
Real-time live chat with automatic follow-ups allows you to attract potential customers who are on your website or on your payment page, offering assistance. There is a small window to turn potential customers into interested prospects for your product, and with a live chat, you can connect them in real time.
Maximize your efforts
Zendesk has a chatbot with artificial intelligence technology that can be used in the Guide module. The bot marks relevant content in its database as customers write their request. If you have a file with helpful guides, you can now add value to your customer service through this bot. This means you get more ROI from your content budget.
Self-service
With Zendesk, you can create a self-service customer portal using your knowledge base and community capabilities. Combined with the AI-controlled bot, you can forward frequently asked questions and query tickets to the portal.
Advance support service.
Zendesk has all the key features you need for a powerful support solution. It has a ticketing system, a knowledge base, community forums, a call center, a live chat, and a messaging tool. You can create an efficient and powerful customer service process with this structure.
Pros and Cons of Zendesk
Pros-
Web interface: Customer-oriented web interface that is easy to work with.
Downloads: You can export data and analytics in CSV format
Ticket management system: Flexible ticket management with automated workflow.
Community forums: Knowledgebase portal and community forums included.
multi-channel support: Support via email, web, phone, chat and social networks.
API Integration: Open API for seamless integration into your company.
Third-party app integration: Over 100 operational integrations with third-party applications.
Forums: Public and private forums available for solving queries.
Custom reports: Business can create robust reports for advanced analysis.
Cons-
Zendesk does not offer a suitable mobile screen for submitting tickets.
Emails in Zendesk can't process first names easily.
Zendesk Pricing

Zendesk's professional suite includes support, chat, online discussions and conversations which is available for $89/mo. and will be billed annually. The Enterprise plan of the same suite includes Zendesk Sunshine, more customization, AI-based predictions, and 24×7 support costs $149/mo. and is billed annually.
The price of Zendesk Connect depends on the number of users your organization sends messages every month. However, the price is $153/mo. for 2,000 users each year. Businesses can sign up for a free trial of the Zendesk Suite or Zendesk Professional Support Plan the first 14 days.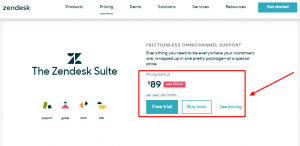 Is Zendesk the right tool for you?
Zendesk is an effective and reliable CRM and live chat software. This software is an ideal option for anyone looking for a reliable and efficient solution that meets all the needs of their business.
It's also easy to test Zendesk with a 14-day free trial plan to test the essentials before investing in a paid plan.
Intercom has live chat and chatbots to assist companies to get more leads, automate the qualification of leads and move the deals faster through the funnel. They have nearly 30,000 customers, including well-known and credible brands such as Shopify, Atlassian, Y-Combinator and Sotheby's who use their live chat to increase their response rate by as much as three times.
Intercom claims to increase the visitor conversion rate on the website by as much as 80% by offering a sales, marketing and support solution. For every $92 spent on acquiring a new lead, only $1 is spent on converting them, according to an eConsultancy report. The conversion rates from mass emails and social media are around 2%. In such cases, using a live chat your company can acquire, engage and retain the website visitors.
By converting your leads faster, this live chat tool helps businesses improve their lead generation process. Then on, you can send targeted and customized emails, in-app messages and website push notifications to convert a lead into a loyal customer. For better customer support, Intercom offers an in-built help desk using which your support team can share articles (also called a knowledge base).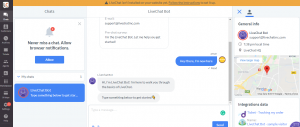 Intercom Features
Inbox to chat, capture and qualify leads
The Intercom Messenger chats with people on your web and mobile browser and inside the app. You can customize the Messenger's color, wallpaper and create team profiles. You can show the average response time the visitor should expect. The Messenger lets the lead know when you're offline and collects their emails for you to follow-up when you're back. Along with the email, you can customize the information you would want to collect.
To convert these leads, they give you a team inbox to manage and respond to all conversations on the website, Android and iOS apps. You can save replies to common questions. The "away mode" automatically reassigns conversations when the team member is out of office.
With Intercom, you can measure the ROI of live chat with lead reports including revenue reports (by the message, landing page and bot), average response time, the messages generating the highest amount of leads and the leads that are sent to Salesforce.
Target and nurture prospects with automated messaging and campaigns
You can show the messenger on selected pages, or to specific leads. Their level of personalization further allows you to target visitors or leads based on their events, sessions, features used or their activity on the website. Depending on the goal of your message, you can choose from chat, note or post.
Engage with your leads and users by sending them automated messages and emails based on their behavior, at certain times and days. You can also schedule personalized messages and custom HTML templates. Simultaneously, you can test against variants and measure the performance in terms of open, viewing, click and reply rates.
A platform to track and segment prospects and visitors
Using Intercom you can create custom profiles based on user behavior, location and activity. To restrain access, you can permit the use of certain features to specific team members.
Pros and Cons of Intercom
Pros of using Intercom
You can style the chat widget – Lets you upload your logo and change the background color.
Office hours – To let the customer see when you will next be available.
Block users – You can block and unblock users, leads and visitors.
Hiding the chat widget – You can restrict the chats to your most valuable leads.
Detailed reports – Shows the busiest hours, performance – conversations closed, the responsiveness of the staff, volume and remarks from customers.
GDPR compliance and support in 38 languages.
Cons of using Intercom
Expensive.
The chatbot that suggests help articles when a user asks a question is a paid feature.
Drip email campaigns, in-app push notifications and push notifications are available with the paid plan.
Their differentiator, the contextual automatic targeted messages come with the paid plan.
Pricing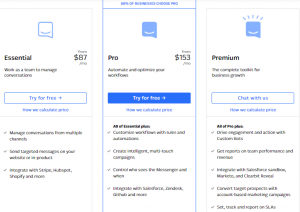 Is Intercom the right tool for you?
Go with Intercom when you need a robust plan for a bigger team with one or more agents. Typically used by enterprises who require multiple integrations such as CRM, an operator bot and a knowledge base.
Skip using this live chat tool when you have more than one agent but want a free plugin that is easy to operate and quick to set-up.
Additional live chat tools
SnapEngage – Visit Website
Powering more than 10,000 websites, SnapEngage has a 15-day free trial period and takes less than 30 seconds to set up.
The four ways companies benefit from using SnapEngage's live chat are:
Amplifying sales – This responsive live chat empowers sales teams to engage, qualify and convert leads into paying customers.
Retaining customers – Increases customer satisfaction and reduces a company's cost-per-interaction.
Actionable sales results – Enables sales teams to carry more friendly and efficient conversations.
Actionable support results – The support team can answer the customer queries immediately.
Features
Automation – Customize your workflows, automatically sync your leads and contacts with the CRM and help desk and use their bots to automatically reply when the agents are offline.
Omni-channel experience – Engage with your leads and customers via SMA-to-chat, tweet-to-chat, Facebook Messenger and WeChat.
Pros of using SnapEngage
Their feature "call me" lets the visitor call the support agent directly from the chat.
To add a personal touch, SnapEngage allows agents to add their personal photo.
You can customize the appearance of the live chat widget.
Cons of using SnapEngage – They do not have the option of site monitoring. The visitors cannot be invited by support agents and the visitor details are visible only after the chat request is sent.
Pricing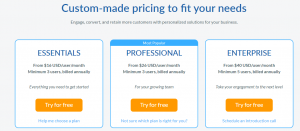 Freshchat is a cloud-based live chat application developed to meet the needs of small, mid-sized and large sales teams. To create a more personalized chatting experience, Freshchat lets you create contextual messages, capture leads and qualify them. Simultaneously, you can gather valuable intelligence from your users. It is a moderately priced platform for companies to respond to all their customers' needs.
To further improve the engagement and communication, Freshchat can be integrated with third-party messaging and help desk platforms such as Zendesk, Slack and Facebook Messenger.
Features
This multilingual messaging app allows you to create FAQs in 31 languages. Their top-features include – real-time dashboard, AI-bot, multi-channel messaging, web and app push notifications and co-browsing.
Pros of using Freshchat
Categorize messages into custom groups, to hand each customer to the right agent. You can maintain a priority inbox for customers more likely to buy.
You can segment visitors based on geography and event history. You can set up responses to commonly asked queries.
When the customer support agent is not around, their FAQs inside the Messenger provide answers in 31+ languages, to reduce the resolution time.
The Freshchat dashboard provides a summary of the performance of your agents, the speed of reply, resolution time and the conversation trends. By calculating the customer satisfaction scores, you can reward and acknowledge the best performers in the team.
Cons of using Freshchat
Some users complain that they have a hard time setting it up.
The "powered by Freshchat" branding in the chat is removed only in paid plans.
Pricing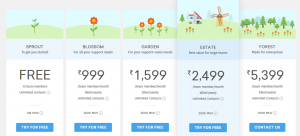 Kayako – Visit Website
The revamped Kayako is a help desk live chat software addressing customer concerns of 50,000 businesses and used by 100,000+ support agents to serve 100 million customers.
Through their live chat feature, Kayako helps companies manage and address their customer requests over multiple channels to serve their customers better.
Especially useful for e-commerce companies, Kayako displays every page the customer has viewed along with their purchase history. This way, the support team can collaborate with the marketing or sales department for more business opportunities.
The Kayako app for iOS, Android and Blackberry allow the support team to address customer queries on the go.
Features
You can transfer the chat to other agents.
The agents can configure notification sounds as per their liking.
The agents can proactively start a chat with the website visitor.
Pros of using Kayako
Email integration.
Multilingual support and localization.
Ticketing.
Automated routing.
Cons of using Kayako
Don't have any integrations with supporting tools.
The upgrade is complex.
Searching via tags is painful.
Pricing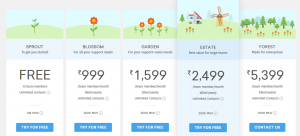 BoldChat/ Bold360 – Visit Website
BoldChat is a premier enterprise live chat software with automated chat routing, chat monitoring and reporting capacity. Their API allows surveys, chat windows and popups to be customized. Proprietary applications can also be added to the BoldChat software.
The support agent's dashboard has a wealth of information such as customer's viewing webpages, the search keywords they use on your website and advanced co-browsing.
Pros of BoldChat
Easy to deploy and setup.
If you have a large call center or a high traffic website, the feature-rich BoldChat is the best option for you.
The interface is easily customizable and user-friendly.
Visitor monitoring, chatbots and omnichannel engagement to deliver personalized and customized experiences make BoldChat the best live chat software for companies such as Vodafone and Intuit.
Cons of BoldChat
While BoldChat offers customizations, each change requires coding. For people with no coding skills, it becomes difficult to operate. You would want to use a live chat tool where the agent can change the look and feel of the window with as few clicks as possible, and not having to go to the developers.
Pricing
All their plans have customized pricing.
Comm100 – Visit Website
The hosted live chat tool Comm100 boasts of an impressive list of enterprise clients including Stanford University and Whirlpool.
Pros of Comm100
Even with the lowest pricing plan, Comm100 offers unlimited chats, automated responses and greetings, visitor monitoring and customization.
You don't have to worry about complicated integrations. Features can be installed with simple copy-and-paste.
If you are using platforms such as Joomla, Shopify, WordPress, Magento or Drupal, setting up Comm100 is a breeze.
Cons of Com100
The "powered by Comm100" branding can be removed only with the paid plans.
Desirable features such as integrations with Zapier, Salesforce, Zendesk and Google Analytics are available only with paid plans.
Conclusion – Considering the impact live chat has on conversions and revenue, it is wise to invest time learning about the live chat platforms available and adding the right one to your website.
Would you believe, if we said live chat reduces customer support by half and almost doubles the conversion rates!
These benefits of live chat are true when you choose the winning chat system for your business.
While businesses complain that live chat is dull and robotic, they're using live chat the wrong way.
The best live chat software are responsive and the customer support agents create customized answers for the visitor.
This was about the 10 most renowned chat software in the market. You may like to read our review of 50 most renowned chat software.
So then, is live chat important for every business?
Live chat is important for businesses requiring some form of online customer support.
These 3 questions will help you decide if you require the best live chat software in the first place, on your website:
Does your business sell a service or product online?
Does your business require online customer support or a sales team?
Does your support team interact with customers via email, social media or other online platforms?
If the answer to these questions is a "yes", then live chat would be a good addition to your website.
Although there are plenty of businesses that do not require live chat, there are thousands of others benefiting from live chat.
You should try live chat for building a personal connection with website visitors and customers to increase your conversions.