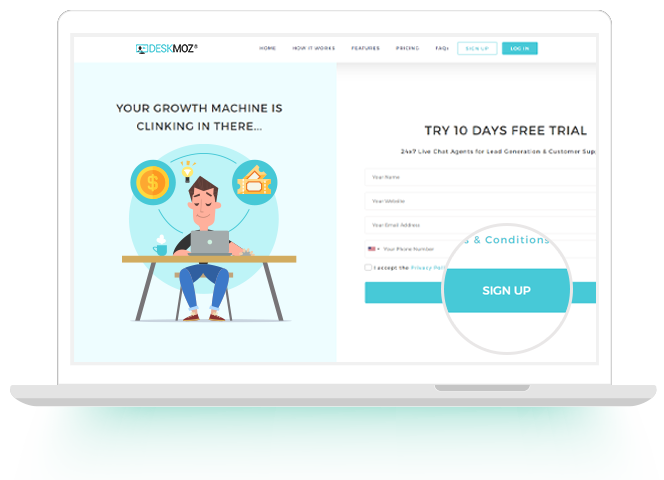 To get started with our 10 days free trial, fill-in the sign-up form.
Once you submit the sign-up form, you will receive an email from [email protected] consisting the login credentials & the activation link of your DeskMoz dashboard. Just in case you didn't receive the sign-up confirmation email, please check the Spam/ Junk folders of the email account you signed up with. To avoid missing our emails, please add [email protected] & [email protected] in the whitelist of your email account.
Personalizing The Dashboard
Now, you can access your DeskMoz dashboard & get it personalized!
By-default the email address which you sign-up with is selected as the email address on which we would be sending you all the sales leads & support tickets, but if you want both or either of them to be emailed to a different email address, you can update the email address from Setup > Website & Notifications.
we ask you to also provide us the phone numbers we should text the sales leads & support tickets to & also add the email addresses (upto 3) you would like to receive the chat transcripts on.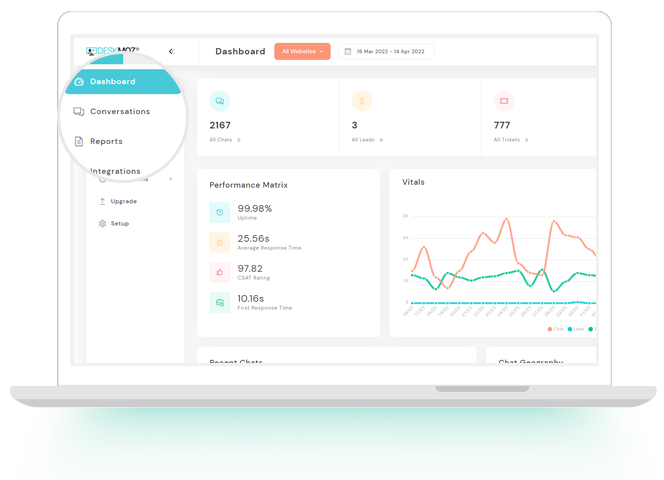 After the trial, if you choose our Professional or Premium Plans, you can add the other websites from the Add Website button. You can add upto 3 websites under the Professional Plan & upto 5 websites under the Premium Plan.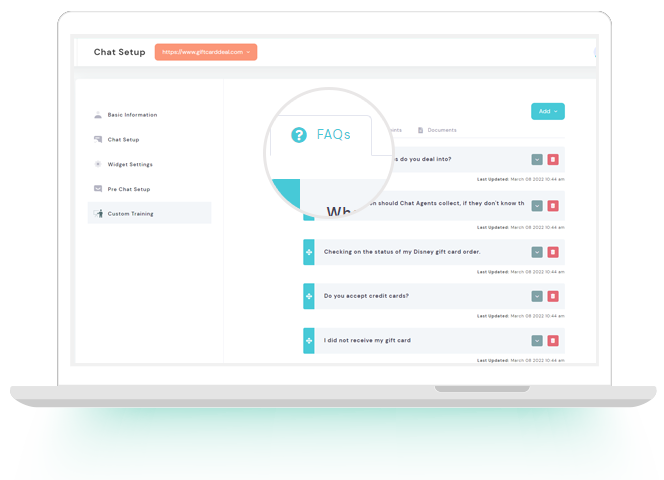 We ask you to share your customer support FAQs from FAQs > Add FAQs to help us start the training of our live chat agents for your website. You can also email the FAQs to us at [email protected]
The FAQs could be any material in Q&A format which could help us in training the chat agents for your website. To begin with, you can provide the basic FAQs to start chat agents training & keep adding more & editing, deleting the current ones along the way.
Need Assistance in Preparing FAQs?
A little confused as to what exactly to cover in the FAQs. Hmm?
Well, not to worry. Just let us know & we will assist you in preparing a perfect set of FAQs or if you want, we can get the FAQs prepared for you on the basis of the information available on your website, get them approved from you & forward them to our Training Team.
See DeskMoz as the virtual version of your fully managed in-house chat agents team. To manage just everything for you, you get a Dedicated Manager right from the very first day.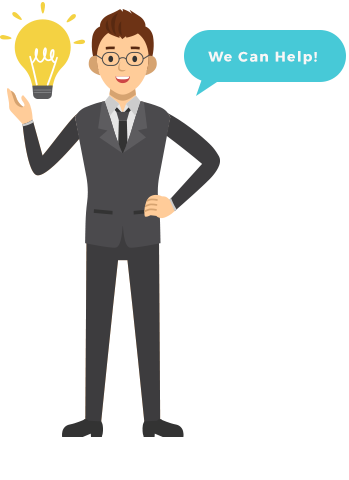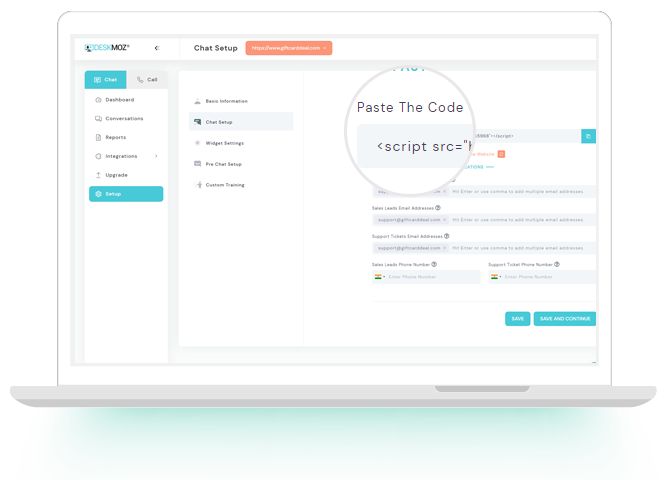 While we are training our chat agents, we ask you to embed our free live chat tool in your website.
You can copy the code from Setup > Paste The Code & paste it right before the closing "</body>" tag on all the pages you would like the chat tool to appear.
To utilize the free trial the best way, we suggest pasting it on all the pages.
If you would like our chat agents to continue with your current chat tool, just email its login credentials to [email protected]
From the moment you share the FAQs with us, we start with the training of our live chat agents specifically for your website.
The training is provided on the basis of the FAQs, your specific instructions & your website content.
Under this 48 hours training, we train at least 9 chat agents (2 main chat agents & 1 backup chat agent for each of the 3 shifts), Shift Managers, Lead- QA Team, Lead- Compliance Team & of course, your Dedicated Manager.
Right after the training, the chat agents take tests & the top scorers are deployed on your website.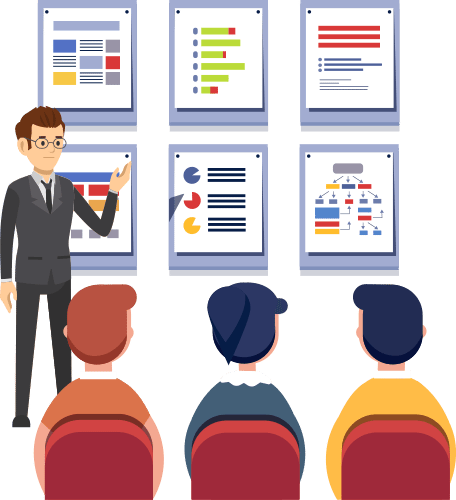 As soon as the training gets completed (mostly before 48 hours), we will deploy our professional chat agents live on your website.
The only job you need to get done at your end is embedding our free chat tool on your website or providing us the access to your chat tool.
Our free chat tool is highly customisable. So, feel free to let us know your customisation ideas.
The Seamless Support Experience Begins
We are all set to go live on your website!
In order to ensure that your valuable customers & the precious prospects get the most amazing live chat experience, our chat agents are going to stay live on your website 24×7 (or for the hours you want).
We strongly recommend you explore your DeskMoz dashboard for it shows you the live chat insights you might not have imagined. It updates real-time round-the-clock.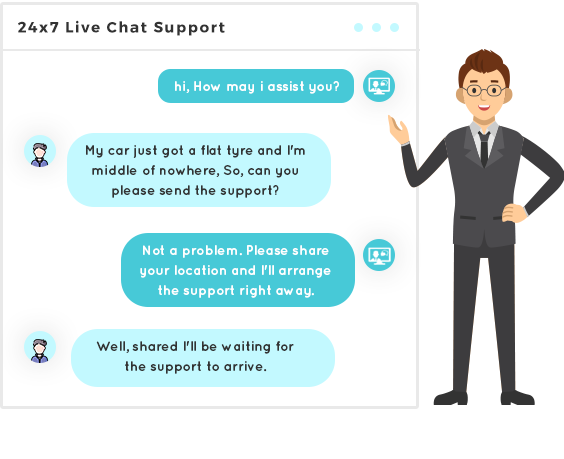 Sales Leads & Support Tickets right into your Inboxes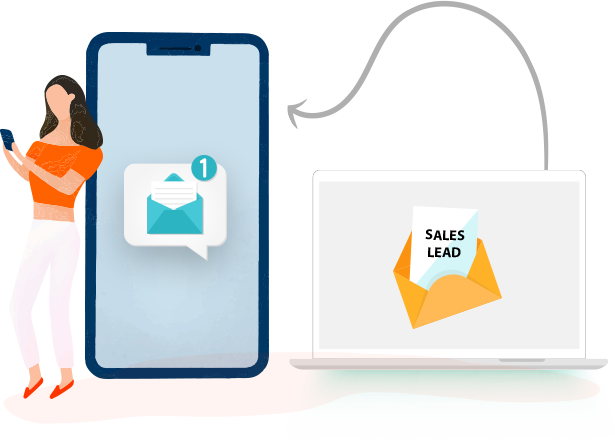 Sales leads & support tickets are best served hot.
Every time our chat agents generate a sales leads or cut a support ticket, you will receive all the details of the chat, including the chat transcript not only by email but by SMS as well. We leave no stone unturned to boost your sales & follow-ups.
You can always change your email & SMS preferences from your DeskMoz dashboard.
Insider Tip: How to Get The Maximum Out of DeskMoz
DeskMoz's promise is to go the extra mile for you, only if you want us to do that.
Our chat agents don't sit in your office, they would just start working on your website & building expertise takes time. So, yes, our chat agents will make mistakes but won't repeat them ever. In order to make them a quick learner, we ask you to point out every single mistake that we make & we promise you that none of the mistakes are going to be repeated, ever. Let's get the job done together!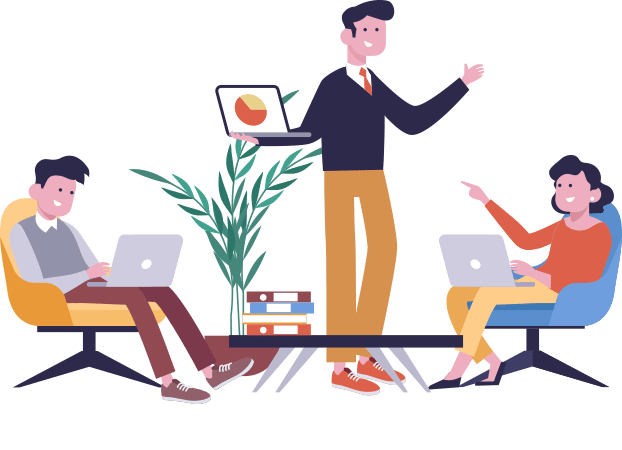 You be our stern sailor & let us be your success ship!
How?
Keep adding more FAQs for our chat agents to always remain updated.
Keep sharing feedback for even the tiniest of the mistake we make.
Keep checking your DeskMoz dashboard for the insights we post there.
Got any questions or would like us to help you in getting started?