Tips & Tricks to Get the Maximum Out of your Customer Service Window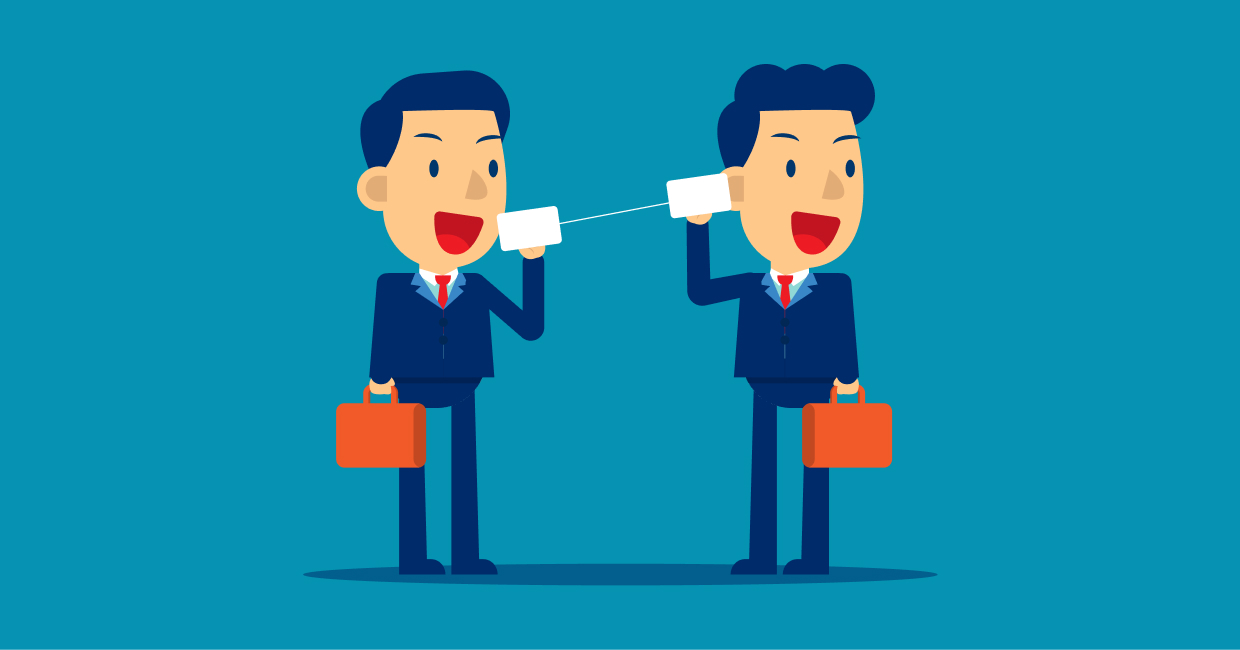 Over the years we have seen how customer service practices have changed with time. The customer service work is not just limited to telephone lines and emails but has extended over texting and live chat models too. Live chat is the most efficient and popular method of offering customer support. Studies on this subject have shown that close to 73 percent of people has shown satisfaction with the way life chat functions. The Customer Service Window of live chats is where people are seeking help. Many of the established companies have already employed this system of customer support.  
A great part about this service is that one does not have to spend many resources to employ this feature. There are many lead generation companies today that offer to install and run client support windows. One just has to pay a subscription fee and fill details such as F&Q, company policy, work guidelines, etc and the service will be ready. There is no coding or website change necessary to add this feature on one's webpage. The subscribers can customize the chat services with time to time and keep track of all conversations that are taking place. The cancellation of the deal is as simple as getting it added on one's website. 
Live chat is new-age customer support. It is very cost-effective and is much cheaper than traditional methods of customer support. The price of maintaining a toll-free helpline is much more than the price of hiring a few live chat agents. According to many surveys people do not prefer calling over chatting. On live chat, the ease of sharing links and directing customers is better than dictating instructions on call. Besides, live chat allows people to multitask and work on multiple tabs at the same time. Live chat is also convenient for people who are unable to make calls because they are in crowded settings. This is the quickest mode of customer support. 
Merely installing a live chat service is not enough. One must employ many ways in which they can maximize the use of live chat services through service windows. Some of these ways are: 
Placing the live chat window on the right corner of your website. 
By placing the window on the right corner, the chat sign will be most visible. Since most of the world's population is right-handed, the website surfer will instinctively notice the pop-up button on the right-hand side more than anywhere else on the screen. Make sure that your chat button is bright but not too flashy to the point of being annoying. 
Placing the customer service window on every webpage
Many people do not come to the homepage of any website but directly click on a very specific page. By simply putting your chat widget on one page you are losing the traffic that is coming from the rest of the pages. Therefore to capitalize and get every lead, it is very important that places the customer service tab on every web page.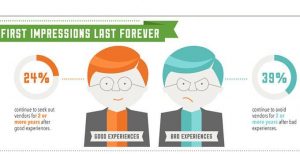 Image Credits: Costa Systems
Initiate the conversation
Often people visit a website but are unable to navigate across it. They leave when they do not find the information that is present on the website but they could not locate it. In such a situation, the chat widget should initiate the conversation and offer help. By finding out that assistance is available the user might stop and ask for whatever they are looking. This will prevent your lead from exiting the website without discovering its full potential. 
Make use of AL-driven chat boxes
We have facts that show that AI-driven chat boxes enlist response from website visitors and leads to favourable service. Even though not everything can be dealt with AI but it certainly helps the live chat agents to concentrate on more serious and complex issues. AI responses make use of sequence-based chat box that does predict what your customer needs and forwards help by sharing links and F&Q lists. 

Image Credits: Relay 
Communicate in a smart way
One of the flaws of live chat systems is that sometimes their responses are not accurate and seem like they have been simply copy-pasted. The complete dearth of personalized and customized response is one shortcoming of live chats that have been constantly reported. To maximize your customer service Window makes sure that response you send is accurate. Don't make the customer wait for more than 2 minutes. Read the query carefully, give detailed solutions, and send the answer after proofreading properly. Try to give detailed and yet concise answers to the questions.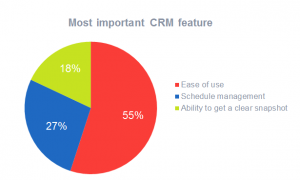 Image Credits: Super Office
Personalize the chats
By personalizing and customizing your responses to all live chats you are raising the chances of retaining the customers and making them feel special instead of giving out the drab robotic responses. There are a few ways in which you can personalize the chats, some of these ways are:
– Use the visitor's name as you greet them. Using a person's name makes them feel special and gets their attention as well. Use exclamation marks after greetings. 
– Use an agent's photo and name in the chat window so that the visitor knows that they are communicating with a real person and not artificial intelligence. 
– Make use of advanced technology like video calls, co-browsing, screen sharing with CRM (customer relationship management), and voice calls. The advanced technology helps people resolve their queries quickly and much faster. 
– customize your greetings if you are operating on holidays or other special occasions. This will make you look more up to date and latest. 
– In all your chats adopt a positive and cheerful outlook about the situation. Your positive attitude will leave a good impression on the visitor. 
– By giving access to the agent about a clients name and other information that they disclosed while signing in, the personalization process can be made easier. 
Low response time
In today's fast-paced world, time is the scarcest resource. Any response time that is longer than 2 minutes is undesirable. High response time leads to cart abandonment. It is important to make sure that you respond to your website as soon as possible and if you are going to take time to get back to them then do inform them of the waiting time so that they can utilize that time in doing something more productive rather than waiting for your response in uncertainty. 
Aesthetics are important
Some people might think that a simple chat window should be enough to do the work but aesthetics are important too. If your chat window looks like it has been abruptly placed on a web page then people will hesitate while using it. Your client service chatbox should be seamlessly integrated with the design of your website. It should match the aesthetics and layout of the website and brand. 
Do not have a design that is too confusing or cluttered. The font that you use should have high readability and is not confusing. Fonts in cursive and comic style should be avoided even if they match your brand's design. Fonts like Arial, Calibri, and Times New Roman have high readability. Many people dismiss odd-looking chatbox texts thinking that they are pop-ups or spam messages. Therefore, it is important that when your live chat agent tries to connect, the look of the message appears legitimate. 
Provide Live Chat Service on Mobile
With digitalization, more and more people are now using their cell phones for everything from ordering food online or book appointments. Which means a large section of your population visits your website on the phone. Therefore, to cater to that segment of the population your live support window should fit the phone interface too. 
If your chat window does not fit the phone screen then there are chances that you will be missing out on a lot of potential clients. Optimizing your live chat feature for mobile phones and tablets is the best way in which you can be more accessible to the customers. 
Keep appropriate sound alerts
If you are using sound alerts on your phone then make sure that the sound that you are using is pleasant and not jarring. Inappropriate and annoying sounds incite the customers to mute their chats. At the same time, pleasant sounds keep the customer-focused to the chat and alerts then whenever there is a response. 
Use a neutral sounding tone that is crisp and does not drag too long. Also, make sure that you do not constantly keep pinging until the visitor checks the message. Add the option of muting the chat for more convenience of the visitor. Test the sounds before finalizing them. Many brands have built their image on distinctive ringtones and sounds. Therefore, ignoring a small ping can result in loss. 
Have well trained live chat agents
Live chat agents are the ones who take care of all basic queries and problems of the online site visitors. These agents deal with the majority of doubts, complaints, and enquiries unless the complaints are elevated to those higher up in the authority. 
The live chat agents need to have a full grasp on the policies and guidelines of the company that they are working for. The agents should be well trained in how to deal with different kinds of queries. It is important to hire skillful agents who have great communication skills. 
If the live chat agents are skilled then they can solve the majority of the queries that come their way on their own instead of forwarding them. This will cut the query backlog majorly You can incentivize good performance with a raise or other perks and have a mechanism for grievance redressed of chat agents. Satisfied employees in customer support sector are better equipped to help clients rather than employees who are stressed.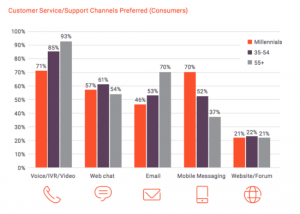 Image Credits: Smart Insights 
A bad response to any query can harm the reputation of your company as the agent is also seen as a representative of your company. Investing time and money in agent training indirectly turn very profitable in future with higher productivity and increased profit figures. 
Make sure your chats are saved
Sometimes the chats get lost if a person accidentally closes the page, this causes the agent and the user to begin the conversation again. It can be very frustrating and time-consuming, especially if the chat that got lost was lengthy. 
The loss of comprehensive chat is not just inconvenient but also results in the client leaving your service. It is necessary to incorporate a feature that makes sure that the user can continue their chats after a pause or signing in again. The option of coming back to one's conversation helps people refer to it when they face the same problem again. 
Give options in how a chatbox operates
Different people work with different kind of chatboxes, so providing variety means you are providing them options to pick different ways in which they can work. Options like full window are popular with people who are used to chatting with a full screen only. One can also keep the chatbox mobile, in a way that allows people to shift it from place to place and move it to different corners. This can be very helpful for right-handed people who would like to shift the chatbox on the left. The mobility of the chatbox also allows people to navigate the web page better. 
Make use of different languages
The Internet enables people from different geographical backgrounds to access your website. The global world of the internet caters to different people and this means that you will be serving people who may not know English. Therefore one's customer support should be available in different languages.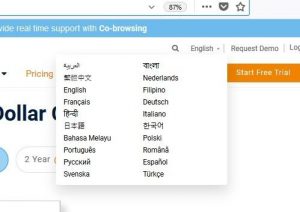 Image Credits: REVE Chat
There is a huge market in Hindi, Chinese, French, and Arabic that can be tapped if customer care is made available in those languages and scripts. With Google Translate and other online translation services, it is now possible to customize your live chat feature in multiple languages and scripts without any major overhaul in the system. Having a client service window in multiple languages will make your brand more inclusive and will increase your client base as well. You will be able to cater to the crowd across linguistic groups. 
 To optimize the benefits of a customer service window to the fullest one has to make sure the qualities that live chat and its subsidiary facilities serve you to align with what your company is seeking. To figure out this balance a careful study about how this collaboration can work is needed. If you are not clear on what kind of service you need from the new age technology then regardless of how much you spend, you will not be able to utilize it fully. 
Have 24/7 helpline
Having support across the clock means you will not miss any lead due to the absence of your representative. Many people these days have odd or flexible working hours. The limit of surfing net is not bound by 9 am to 5 pm work binary.
Besides, internet-based services see clients across geographical locations, hence what maybe day time in your office may not be a day for your international clients. 24-hour service gives you an edge over other competitors. It also expands your service to more and people who may stumble across your website past midnight. Maintaining 24-hour live chat is affordable. You may not have to hire a full staff but keep just one or two agents to deal with the traffic that come at odd hours.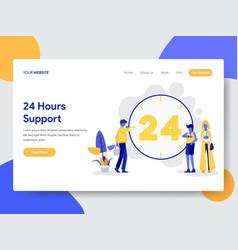 Image Credits: Victor Stock
Do regular data collection and evaluation
You can use your customer service window as a means of data collection as well. By taking basic demographic information of your clients you can build a database and gather a pattern about what kind of people visit your website, what are the most common queries they have, etc. 
You can know the details such as which gender comprises of your major customer base, which city has the most number of online visitors, what is the age group of your website visitors, etc. Later you can use this information to form your advertisement and complaint resolution policies. You can also know about the areas where your brand needs improvement are. The visitor service window can also be used to ask for feedback or one-question surveys. 
Use visual communication 
People follow instructions given via visual modes rather than by text. One should make use of screenshots or pictures to show what next step a customer should take. Using GIFs to show how the action has to be taken is also a highly efficient means of communicating directions. In serious cases, you can also guide a person through video chats or other means of web-cam supported instructions. Visual communication is most sited for situations where directions are too lengthy and complicated to put in words.