Zendesk Review : How is Zendesk Different From Other Support Ticket Platforms?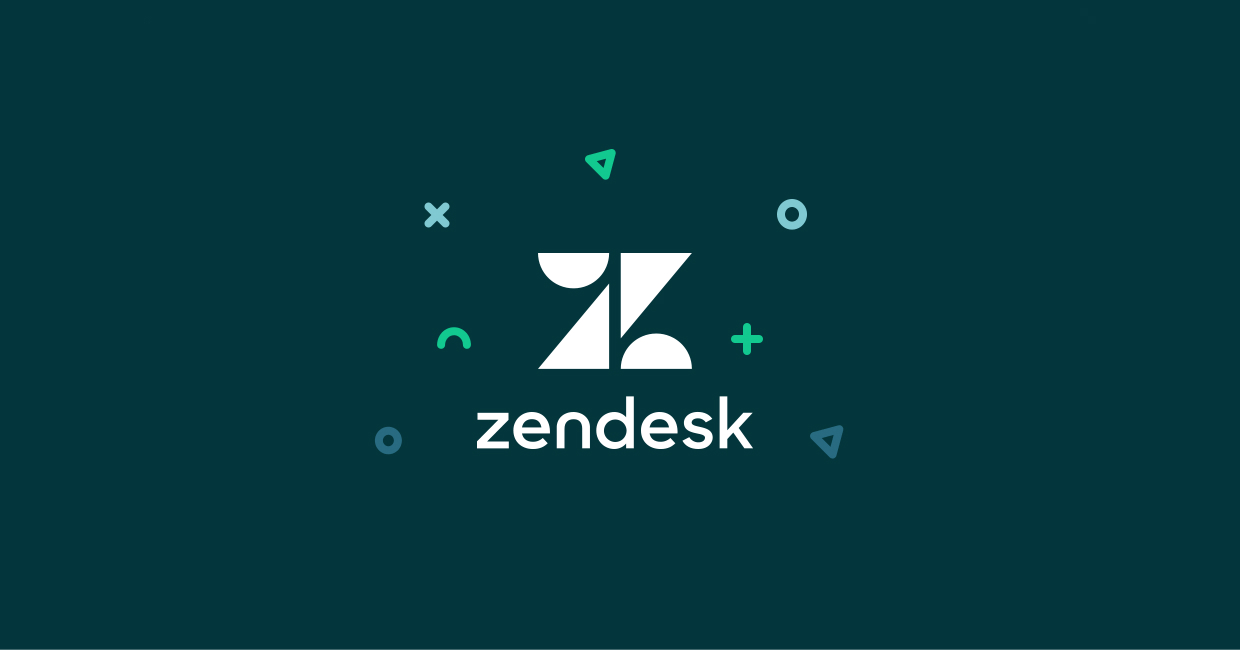 Zendesk is one of the most popular ticketing support and customer service platforms available in the market. With a global ranking of 369 and the position among the top 3 in Customer Support Software, Zendesk is serving more than 5810 clients, majorly in the United States.
You can avail their services by taking a 30 days free trial. The basic plan starts with just $5 per month. I would recommend the users, especially Small and Medium Enterprises to go through the pricing plans and select the one which fits you. Why pay more for the features which you might never use! Make sure to compare the features and pricing plans with its competitors too.
Competitors
HappyFox and LiveChat.
Devices Supported
Windows
Android
iPhone
Linux
Web Based
Mac
Languages Supported
You can add multiple languages to your Zendesk account like English, Spanish, French, German, etc.
1.Support: Track, prioritize, and solve customer support tickets ($5-$199)
2.Chat: Real Time Chat with your customers (up-to $59)
Let's get started 
Once you go online with Zendesk, you are required to specify whether you are targeting businesses or end consumers. Now that you have registered your website with Zendesk, you need to avail the Chat Service feature to explore the amazing Dashboard. All you need to do is copy the code on the pages of your website where you want the Chat Box to appear.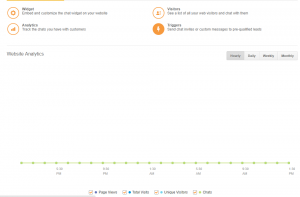 Easy customization with your widget
You can change the Badge text, Badge color, Badge image and the language you prefer.You can change how your chat widget looks with the JavaScript API. Various themes are available for you to choose from, however, you may also change the picture of your wish. Clients usually remove the Zendesk logo from the chat box and replace it with their own logo so as to give a professional touch.
You need to set a timeout period which determines in what time the chat box would be closed if the customer is inactive. Automatic Trigger function helps you set conditions like, on which page of your website, you want the chat box to pop up. Also, you can set the time, when you want to trigger the chat, for instance, after the user has spent 1 minute on a particular page or after just 20 seconds browsing, it's your wish.
In case, your Live Chat Agents are not available, you can ask the visitors to leave their message and agents can get back to them, since those messages will be available in the chat history and agent's emails as well. You can also modify the functionality of the widget differently on various pages i.e. you can change the language, header, or make the chat box pop up automatically according to your requirement.
This certainly attracts customers to proactively participate in the live chat for various reasons like queries, feedback, inquiries, payment related issues, etc. The Live Chat Support feature enables customers to get quick resolutions of their issues which eventually makes the customers more satisfied and loyal towards the company.Moreover, you can see the performance of your chat agents on the basis of the rating given to them by the customers.
Home Page Insights
Now that you have your website chatbox, let's have a look at the Home page of your Zendesk account.
As you can see above, all the channels through which your customers reach you like Email, Facebook, Twitter, etc are integrated at one place. Whether customer reached your support through your Twitter handle or through the chat box that appeared while browsing on the site, all the data is collected under Zendesk's dashboard which you can track and take suitable actions by using various Data Analytics practices. This way you are continuously measuring your performance to consistently improve your services.
You can collect the information provided by all your agents along with pre-defined ticket responses into the Knowledge Base for better understanding and also you can try Smart Chatbots which automatically answer repeated and general FAQs for helping agents focus on problems which require a human to resolve. Better known as  "Answer Bot", it is another innovative feature from Zendesk which uses Artificial Intelligence to answer customer's generic questions.
Talking about the flawless features, you should definitely get your Zendesk Support on your native app by using "The Mobile SDK" tool for both the Android and the iOS platforms.
This enables customers to get their replies lightning fast, on the go, in their mobile devices. Customers like to wait to get their solutions, said no one ever. This Mobile SDK kit will help you reach your customer base faster, this means getting the support on the platform where your customers spend most of their time.
Apps and Integrations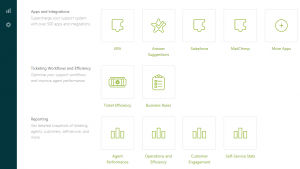 You can integrate your Zendesk account with more than 500 apps including :
Jira

Salesforce

MailChimp

123contactform

3CLogic

Agile CRM

AppGuru

Azuqua

Capsule CRM

Cisco CTI

ClickDesk Live Chat

Cloud Magic

Drupal

FreshBooks

Google Apps

Hootsuite

Infusionsoft

Joomla!

LiveChat

MailChimp

Microsoft Dynamics

Olark Live Chat

Podio

Shopify

SAP Business One

WordPress

Zoho CRM
Zendesk Ticketing System
Ticketing System helps you manage all your customer's questions whether they have come by an Email or any social media platform, all in one place. Ticketing Agents are guided at every step by the Knowledge Base to make sure they solve every customer's queries. However, agents still have an option to escalate the ticket to any other suitable department for a quick resolution. Agents can add internal notes to the ticket which are not visible to the customer but they help resolving the open or pending marked tickets faster. Also, customers have an option to raise their own tickets.
Real-Time Metrics in Dashboard
The Agent availability shows the number of agents online. This helps to assign the resources relevant tickets at the right time.

Response Time feature helps to monitor that the chat agents are meeting up the deadline to respond or not.

Satisfaction and Ratings also provide a glance of how well your customer support is performing.

Agents can mark the tickets as Open, Closed, Pending, Solved, Unsolved, etc according to the status of the ticket which helps the agents to follow up effectively.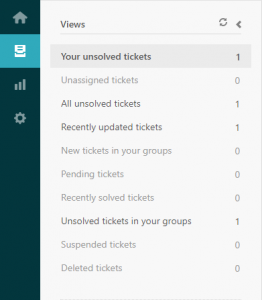 You get all the insights of the data related to the tickets like:
Average Resolution Time
Average Reply Time
Agents Performance
Created, Solved and Closed tickets, etc.
Zendesk Guide
Empowering your chat Agents by providing them the Knowledge Base is another feature known as the "Zendesk Guide". On the quest of providing smooth customer chat experience, giving relevant and quick answers becomes necessary. There are instances when customers want their answers real quick and they don't even want any hassle of getting help from the Support Agents. That's when AI-powered responses come into the picture which shows the most relevant resolution on the basis of the information that the customer has provided. This certainly results in the reduction of support cost that would otherwise be spent on indulging agents to answer. Customer's browsing activities are also recorded in the Zendesk Guide which helps the service provider to analyze how improvements can be done to achieve an ideal customer shopping experience.
Customers can also opt for the Self Service feature in which relevant articles are matched with their queries and they get a real quick and precise resolution of their inquiries. Self Service feature has helped companies reduce the number of tickets received and also the Chat Agents can devote their valuable time and effort in solving other important and crucial issues. If the customer wants to get support over a phone call, then the Talk feature by Zendesk comes handy. You can make both the inbound and the outbound calls & transfer the calls to the suitable person within the organization for better clarity of the issue.
Since you access your confidential data through Zendesk CRM, the safety and integrity of your data are taken care by implementing most updated network security practices.
One of the exciting features in the Zendesk CRM is that the agents can communicate internally with various departments and transfer chats specifically to the Subject Matter Expert.
Looking for the resolutions in the Knowledge Base helps the agents getting quick answers. For instance, the customer has a query of Password Reset, then the agent can open previous chats related to this topic and get exact steps and procedures that are supposed to be followed. Also, the important information like customer's operating system, customer ID, etc is automatically fetched to ease up the process for agents.
Using the Pathfinder app, support agents can track user activities on the website, like on which page the user got stuck and raised a ticket. This acts as a feedback to improve the website's features or the services.
Zendesk has got something productive for Developers too, where they can build personalized websites specific to its user's requirements.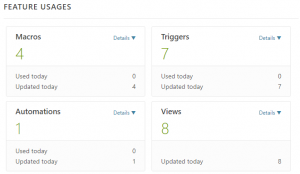 You can add Macros for the queries which require a standard reply to save time and effort of the agents. Canned replies save a lot of time in case of resolving the same issue repeatedly.
Service Level Agreements can also be created to utilize the resources to the fullest and the employees are always aware of what task to do next within the assigned deadline. This improves the productivity of the employees as you can set your desired targets to achieve within a given time.
If you want to measure your company's performance and engage with your customers consistently, you can explore various feature usages Zendesk has provided.
PROS:
Easy Customization

Apps Integration

Knowledge Base and Self Service

Easy to keep track of your business-related data.

Performance measuring

Learning optimum usage through custom-made webinars

Track Customer Engagement
CONS:
A little on the expensive side, considering startups and the small businesses.

Some advanced features can have a better User Interface.
DESKMOZ'S TAKE:
If Ticketing Support Tool is what you are looking for, then your search might end at Zendesk. However, you should always look for the tool that has features that fulfill your company's requirements.