The Key Tactics To Curtail Customer Churn Right Now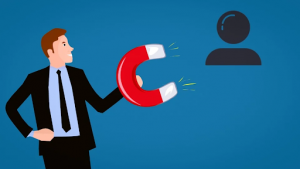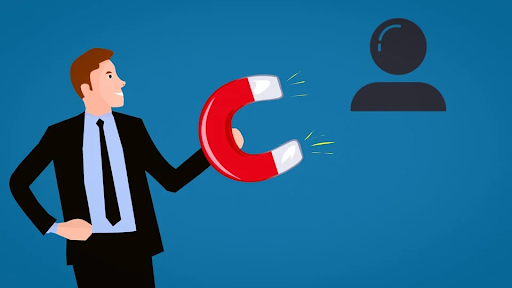 Are you the one who is suffering from losing your customers continuously? Then do not worry as you are not alone in the race. Today many companies are considering lead generation, customer satisfaction, and their retention as difficult jobs. Customer churn or attrition is a significant aspect that affects the overall success graph of your business. 
Because when the struggle associated with customer churn increases, the path to get things back into control also gets blurry. But the good news is that by making some sort of effort to reduce the customer churn, you can get many benefits. How? In the form of profit. According to Bain & Company, if you increase customer retention by only 5%, in return, you can get an increase of 25% to 95% in profits. 
Isn't this very appreciative news? Surely it is, and to take its advantage here, we'll walk through a few potent strategies at all the stages in their entire journey to reduce customer attrition.
Let's dig into it!        
What Does Customer Churn Mean?
Customer churn or customer attrition is defined as the percentage of clients that discontinue the use of your company's product or services within a time period and stop bringing revenue for you. In a simplified way, this term represents the loss of customers for your company.  
The typical formula for calculating customer churn rate-
Customer churn rate =  Number of clients lost (in a time period)   x 100 
                                      Total number of clients (in a time period) 
Most Common Causes Of Customer Churn
There can be several aspects that affect the clients while they use your product or services. Let's go through the most frequent reasons that open the exit path for them from your firm in the following points-
Lack in getting proper and valuable experience

Experience amateurish and unengaging communication environment

Poor customer support

Face difficulties in using your product or services

Do not find it beneficial to use your product

Weaker relationship with customers

Poor onboarding experience

Customers got negative perception about your company

Not delivering what was promised and delivered to them

Problems with the product or services offered by you
And many more pain points could be the reason for the customers to leave your firm that increases the churn rate. 
Let's better tackle this situation by understanding the possible and effective ways to retain clients in the subsequent point.     
Ways To Reduce Customer Churn In Your Company
To save your organization from high customer churn and its negative impact, it is high time to know and employ the best strategies to lessen it. They are as shown below-
1. Collect Feedback From Customers
It is pretty essential to maintain healthy and open lines of communication with the clients to know their experience with the product or services. And the best approachable way you can opt is – acquire their thoughts in the form of feedback. 
The more customers connect and begin to use your product, the importance of knowing about their reviews for it increases. This helps you from losing the client and solve the issues they encounter at the prior stage. 
Due to such efforts, the possibilities to convert their complaints and issues into appreciating words increases. You can use such reviews, frame testimonials, and share with the clients to let them know the value of remaining connected with your organization. HubSpot offers a pretty good example of the same as shown in the following image- 
The usage and presentation of such client testimonials are not only limited to HubSpot as factoHR, and many other companies follow the same tactic where several clients acknowledge their efforts and begin to form a better and long-term relationship with them instead of leaving them. 
To do the same for your company, you can create a feedback loop and conduct surveys to get their responses timely, depending on your firm's needs. Another way to get insight into your client's feedback is by the Live Chatting feature. 
If your website is enabled with this feature, you can conduct and monitor conversations with them and give solutions to the roadblocks coming in their path for using your product or service.
2. Give Away Incentives
To make sure that the customers do not leave you, develop a magnetic force that keeps them attracted to your company. But, how to do that? By offering varieties of incentives to them. This is one of the potent tactics that force clients to consider you instead of going to other competitors.
You can use this concept and give incentives to the customers at different stages to ensure that they remain with your company. For example, you can do so when the customers are about to complete the contract period, or you realize that the client is not gaining much interest in your product. In both situations, you can offer something special to them like discounts, rewards, loyalty programs, promo codes, and anything else that you feel will keep the customers connected with you.
3. Form and Maintain Personalized Relationship
Sales representatives are the ones that remain in continuous contact with the clients. They come to know new customers, their requirements, issues, and concerns with your product or services. This makes the beginning phase of the clients more personalized and happy with the company.  
Customers desire to continue such personal touch in their further journey, but it often happens that it gets lost in the subsequent stage. To ensure that this could not be the reason for the clients to say a forever goodbye to your firm, give the best and most appealing customer services.
You can rightly form a personal and more connected relationship with your customers without much resource spendings. A simple way to do so is by developing the habit of taking follow-up from the clients on a decided time frame. You can even send a casual hi, good morning message to keep the communication lines more open and connected with the customers.      
By considering clients as a part of your professional family and making efforts to develop personal relationships with them, you can surely find a drop in the churn rate over a period of time. 
4. Set A Predetermined Roadmap For Your New Clients
Hurray! You got a new client, but how are you welcoming them to navigate through your product or services? If you have not decided on it, the possibility of such a loophole becoming a potent reason for leaving your company increases, as shown in the figure below-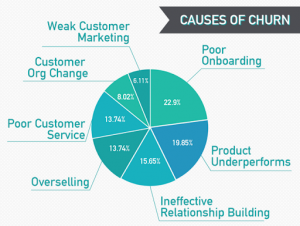 That's why the majority of the firms emphasize the "user onboarding" concept to give a better experience to the new clients.
Customers who feel that your product or service benefits them are less likely to go away from your company. You have to cultivate such a perception in their mind from the very beginning phase, and onboarding is the best approach to accomplish it. 
By providing details and guiding clients about your product or service's features, working, and functionalities, you can better understand their expectations, issues and accordingly look into them. 
5. Thoroughly Perform Churn Analysis
The thought about leaving your company is not an instant decision taken by the customers. They take a certain specific span to decide whether they want to continue or just say goodbye to you. In that time frame, if you cannot determine that the clients are thinking about leaving your company and realize only when they left, then you are already too late to do something to retain them. 
That's why, from the next time, develop the habit of analyzing the available data to better handle and stop customer churn cases. This practice will help you to determine the aspects that make clients either happy and dissatisfied with your product or services. By knowing about it, you can develop various tactics to engage and protect the relationship with your customers before it gets churned. 
6. Provide Informative Content Consistently
The customer retention tactics extend by the product or service you provide to them. Sometimes "content" also becomes a great supporter in reducing customer attrition. Blogs, newsletters, Press Releases (PR), etc., can work as an extra engagement factor for the clients to know and get updates about your products and, eventually, your organization.
This will improve the chances of getting noticed by the clients and reduce the churn rate. Content is always a great source that helps to attract and retain customers with the best and most approachable content. Figure out the top-performing piece of content and deliver them to the clients using different platforms to enhance your brand's identity.                                         
Final Thoughts
For the successful growth of your business, it is pretty essential to keep a tap on the customer churn and make all the possible efforts to reduce it. Once you find out and begin the use of the most practical strategies that assist you in happily retaining the customers, you can win the race and give tough competition in the market.
The tips mentioned herewith can work adequately and guide you to reduce client attrition by doing the best for the customers in their entire journey with your organization. This will help to bring back the dissatisfied clients and keep the active clients happy. So do not wait much and get ready to focus on this aspect to achieve all the possible heights for your business.

Author Bio: 
Sweta Sharma is a dynamic content creator with a vast observant mindset. Her vivid interests in modern technologies and marketing strategies help her in crafting novel content that readers acknowledge. Her readiness towards various subjects makes her articles more distinct and attractive.