Boost your ecommerce visitor-to-buyer conversion ratio with DeskMoz's 24x7 Live Chat Experts!
Sign Up For Free
How We Can Help 24X7
Boosting visitor-to-buyer conversion ratio by delivering seamless customer support 24×7.
Minimizing cart abandonment by answering sales closing questions promptly.
Navigating clients to the pages & the products they are looking for.
Assisting clients with almost everything such as- applying coupons or making payments.
Answering general enquiries of your visitors such as- how soon will the red dress be in stock?
Tracking & informing shipping & order delivery status to the customers.
Getting the maximum number of the visitors to make a purchase by offering discounts in chats.
Generating sales leads & support tickets & notifying them to you real-time.
Serving as the most effective means of taking visitors' & customers' feedback & addressing their grievances.
HOW IT WORKS
You spend a fortune on attracting visitors to your ecommerce website but not many of them make a purchase. But, why? Well, our 14 years of customer support experience has got the answer! Here we have tried to answer the question by depicting a regular online shopping experience of a typical ecommerce visitor.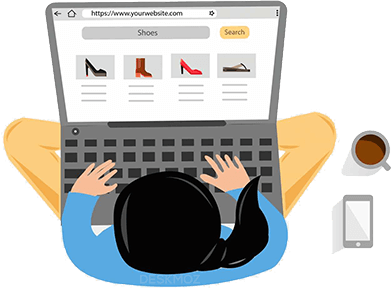 Opportunity Knocks!
For instance, Jill has got a party to attend & is looking to buy a nice pair of shoes.
She types in 'Buy Shoes' on search engine & thanks to your favorable SEO, she lands on your website.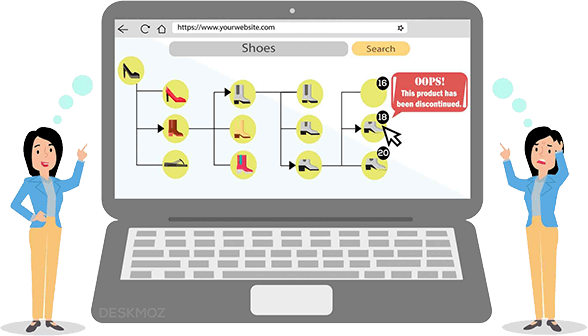 In a Fix
Here, she simply looks up for shoes & selects the type of shoes of her choice.
She finally clicks on her size but unfortunately gets unwelcomed by a unhappening message- 'Oops! This product has been discontinued.'
This scenario is just one of the innumerable bottlenecks which make online shopping a little difficult for your visitors and often urges them to leave the website.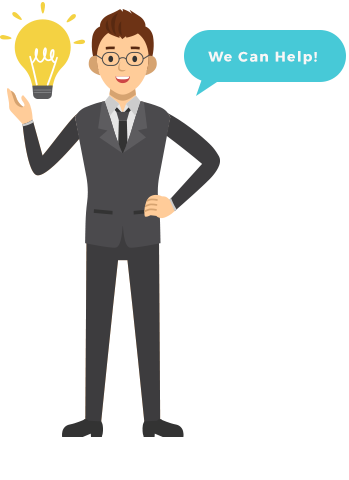 We Have Got The Solution!
DeskMoz is a team of professional live chat agents who remain available on your ecommerce website 24×7 & answer all the questions of your visitors real-time. Call us your best salesman who works round the clock.
Noticing Jill stuck on the same page for a long time, our chat widget automatically pops-up to know if we could be of any help.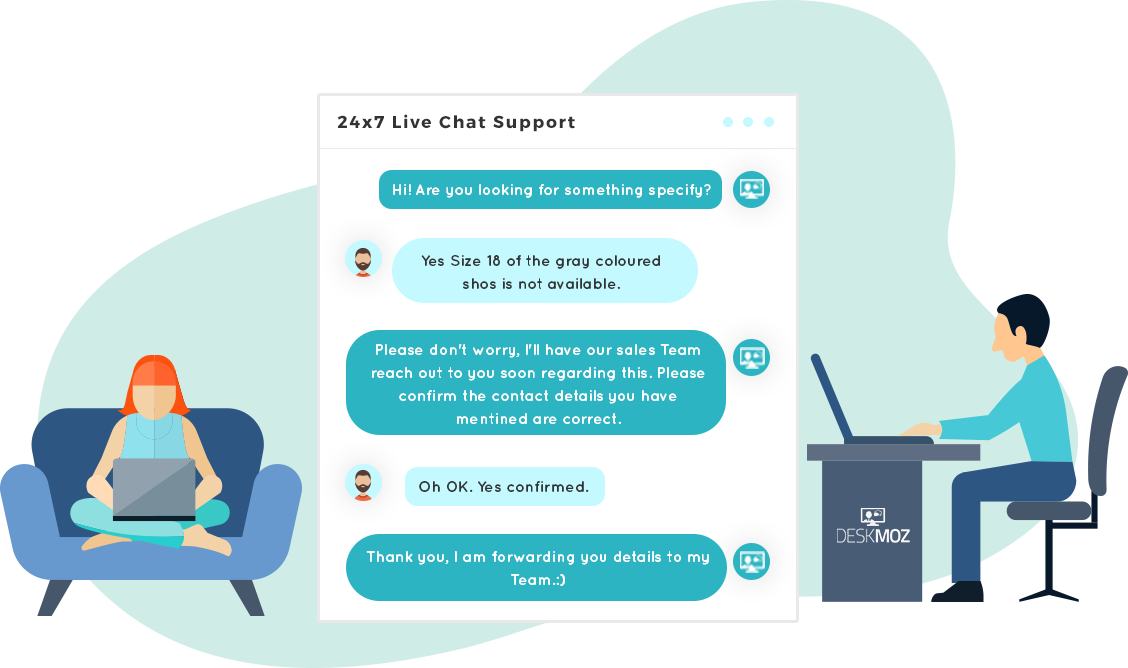 DeskMoz chat agent meekly collects her contact details & assures a solution to her problem.
Win Back!
The collected contact details along with the chat transcript are immediately forwarded to the concerned department of your company both by an email & a text message.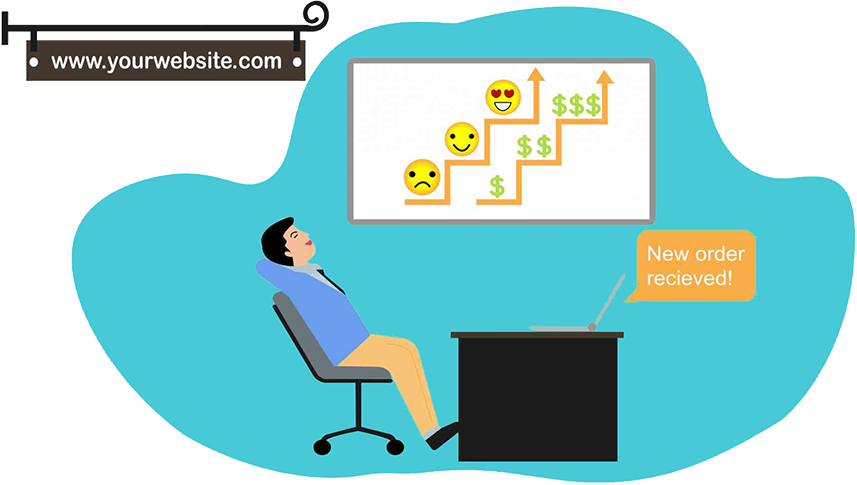 Remember, it takes 12 positive experiences to make up for one unresolved negative experience & 58% customers need just 1 negative experience to withdraw their business.
So, with DeskMoz going that extra mile to deliver the support your customers deserve, you can let your hair down & let us grow your sales 3x round the clock.
Again, we have promised to be your "go-to" for all your customer support needs.
You are in a great company

EvaChic.com
Apparel Ecommerce Store
Value for Money is The Best!
We have been using DeskMoz over 3 years and a half. Overall, DeskMoz has done very good job in covering our live chat 24/7. The communication with the team that support our site is very fast, flawless and most importantly it is a human being that answers not a bot. Since, we have adopted DeskMoz service, our customers are happier, more relaxed and more confident with our site. Also, we believe that the service in terms of value for money is the best in the market- we truly recommend it.