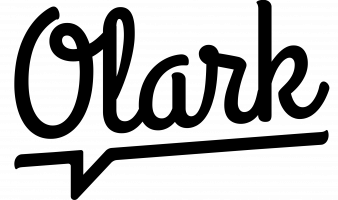 The Complete Olark Review: Answer to your Yes or No
Live chats are the latest phenomenon that has taken the world of customer support and sales by storm. People are looking for live chats to elevate the standards of customer support, generate and tap leads that will lead to increased profits, reduce cart abandonment, and be user-friendly.
Today there are several live chat software in the market. At the onset, all of them look the same and offer more or less the same kind of features, but a deeper analysis will tell you how they are different. Olark is one of the top-rated live chat support software in the world. In often makes its name in the list of Best Chat Software. This software is used by hundreds of big businesses and small enterprises every day.
Read our Olark Review to know more about the product.
Olark has a simplistic design and its interface is very sleek. It is equipped with advanced features and strong integration that allows people to manage and make customer relations easily. The software also generates great insights that help the company gather data about what its customers are looking, where they need to improve, what are the busiest hours, etc. This data is often used to learn about the company's performance and understand its client base better.
We can point out the benefits of Olark Live Chat solutions in a few bullet points:
• It is easy to use. It facilitates the monitoring of leads and enables you to serve your clients the best by showing you where your website lacks.
• It helps convert leads in sales by assisting every customer that needs help and engages users on the website. It is omnipresent and hassles free customer care service.
• It creates in-time data based on the information generated by the live chats.
• It facilitates customization opportunities that integrate the live chat feature seamlessly with the website.
Pricing
Olark Live Chat Solutions is neither too cheap nor too expensive. By market standards, it is averagely priced. It has four plans based on the time limit of the subscription. These options are monthly, yearly, and for two years. On annual and bi-annual options there are significant discount rates. All the plans get all core features. There is a trial period available too for those who first want to test the software. The trial period will be of 2 weeks, but it will not have all the features of a paid subscription.
The prices for subscription plans are:
Monthly Plan: 17 dollars per month
Annual Plan: 15 dollars per month (It saves up to 12 percent)
Bi-Annual Plan: 12 dollars per month (It saves up to 29%)
A detailed analysis of Olark's features
The part of Olark's appeal is how seamlessly it matches the aesthetics of a website, not just in terms of the color scheme but also the shapes. It is very easy to make a few changes in Olark that will make its live chat extension look like it was built alongside the website and is not outsourced. A sleek live chat look with a clear and active feature enlists trust in people who are visiting the website. A shabby live chat feature discourages people from seeking help online as the unorganised looking chat seems unreliable an incapable.
To make Olark more inclusive, there is a feature that allows the live chat agents to communicating in different languages. The translations are available in 11 languages that include German, Chinese, French, Spanish, Italian, Dutch, Portuguese, Turkish, Russian, Swedish, and English.
Olark customizes its live chat feature to many minute details. It has the option of adding looks depending on the time of the day. One can customize their live chat's look based on day time or night time. You can also change the positions and shapes of the live chat bars. One of the most liked features of Olark is that it provides very prompt statistics and data about the company and its clients. This means that whenever one needs to study the data, they can access and use the latest figures.
You can find out when (day and time) the maximum number of visitors interact on your website. This information will help you schedule your staff better for increased efficiency. In our Olark Analysis we learned that it allows you to review the chats that are highly rated and those that are poorly rated. One can also search for chats based on a product name or period. You can filter your search by using keywords, tags, or time. It also lets you see what the main topic of conversation is or what the most common queries are.
Olark also gives you an option to initiate conversations. Often time customers are not aware if there is an option of live chats available on the website. The tab bar is hidden or not paid attention to. So when the live chat agents themselves initiate a conversation, people ask queries and doubts that they have. Statistics and researches have shown that people buy more and complete more purchases after they participate in live chat so initiating a conversation can lead o more sales and more profits.
In today's consumer-centric world, specialized treatment for each patient is the key to successful customer care service. In this case, different filters and different automated responses are important. It also lets you personalize interactions by pre providing information such as location, language, and name for well-ordered conversation.
For the first time visitors or those who have not logged in their account can be asked information that is needed to facilitate their experience. With the help of Olark's chat boxes, you can customize questions such as their pin code, gender, etc. Next time the same user logs in the information that they provided will be saved already and the new chat agent will know basic details about the visitor. The reason for asking basic details of the visitor is to speed up the help and support the customer needs from live chat agents.
You can ask these questions to the visitors via a form. This form can be customized or made within minutes. Olark allows you to edit, arrange, add, or subtract questions with a flexible drag and drop feature.
Olark can be considered as the best Best Ticketing Software as it collects data easily and systematically without bothering the visitor or the data collector.The form responses that you collect will remain in your transcript so in case there is any doubt you can always cross-check with the visitor.
With scores of live chats running every hour, it gets easy to be overwhelmed but our Olark Analysis informed us that this software has very efficient and smart management tools. It has features such as message routing, chat monitoring, agent and chats limits, etc. All of these features keep the chat traffic aligned.
Olark has a system that allows it to keep a track of the agent's performance. It keeps a track of agent's rating and feedback. By studying the performance of agents, it helps you make better scheduling and recruitment decisions. Small features such as chat limit prevents an agent from taking more chats than a certain limit that has been decided by the company. It prevents overburdening of an agent.
There are two options of chat routing in Olark. The first one is round-robin routing. In this kind of routing, the available chat gets assigned to the next available agent. The second kind of routing is all agents routing, here the available chats are kept out in the open for an agent to respond to it.
An ingenious feature of Olark is it fluidly integrates with other software. It works perfectly in sync with WordPress, Magento, BigCommerce, Hubspot, Salesforce, Shopify, and many other online portals. It is compatible with creative outlets and e-commerce platforms alike and this helps one link Olark with all top web platforms, making it truly collaborative and inclusive software.
Olark is supported on all devices such as Windows, Android, Mac, Windows Mobile, and iPhone or iPad. Olark's customer base is very diverse and wide. It is used by small corporations, small businesses, freelancers, and community-owned enterprises. Its diverse customer base can be credited to the fact that it is easy to use and manage. Setting up Olark is very easy, even amateurs can do it.. It does not require any fancy coding or remaking of the website.
Olark has a co-browsing feature which lets people share their screens while browsing. Co-browsing helps live support agents give more direct guidance while dealing with technical faults or helping a client finish online transactions. Consent of the client must be taken before co-browsing takes place via screen sharing tools.
Pros and Cons of Olark.
The advantages and disadvantages of Olark can be summed up in a few bullet points.
Pros
• It's simple interface and ease of using.
• Small and detailed features that enable acute customization.
• Its ability to integrate with blogs, e-commerce platforms, and web portals.
• Its simple and swift installation process.
• Its ability to churn latest and on point data and statistics out of the information generated from living chats.
Cons
• You cannot block trolls for more than 24 hours
• It can translate only in 11 languages and does not cater to languages like Arabic and Hindi that have a huge customer base.
• It does not enable photo sharing feature and sometimes people need to share screenshots to explain their problems.
• Sometimes the chat agents are not prompt.
• Its integrations can be more advanced; right now they are very basic.
Top Olark Alternates –
Why we should pick Olark over Intervals
• Olark is more economical than Intervals. Olark starts with 12 dollars but Intervals starts at 59 dollars.
• Olark's integration is compatible with more online portals than Intervals.
• Olark is compatible with Windows mobile devices but Intervals is not.
• Olark caters to freelancers and small businesses but Intervals does not.
Why we should pick Olark over Freshdesk
• Olark is cheaper than Freshdesk. The later starts at 15 dollars and Olark's starting price are 12 dollars.
• Freshdesk is not available on Mac and Windows mobile.
Why we should pick Olark over EVS7
• EVS7's starting price is 39 dollars, which is more than double the price of Olark.
• EVS7 is not available on Android devices.
• EVS7 is not compatible with freelancers and best caters to businesses only, while Olark's user base is very big.
Why we should pick Olark over Oracle Service Cloud
• The starting price of Oracle Service Cloud is 90 dollars while the monthly subscription of Olark is just 12 dollars.
• Oracle Service Cloud is not compatible with Windows mobile devices.
Why we should pick Olark over HelpCrunch
• Olark and HelpCrunch have the same kind of starting price but HelpCrunch is not available on Windows mobile devices.
• HelpCrunch does not cater to freelancers well.
Why we should pick Olark over Pin Drop
• Pin Drop's minimum price is quote-based.
• The information on its integration ability is uncertain.
• Olark has been rated more highly than Pin Drop.
Why we should pick Olark over Desk Roll
• Olark is more cost-efficient than Desk Roll.
• There is limited information about the integrations that Desk Roll supports.
• Desk Roll does not cater well to freelancers.
The ultimate decision about which live chat software is most well suited depends on company size, the priorities of the brand that is seeking subscription, the budget of the company, and traffic on a website. One should always try the free trial offer before committing to any live chat service. The decision to select a live chat service should not be taken in a hurry because the live chat agents will ultimately be representing your brand.
There isn't one live chat software that fits all types of enterprises or brands. However, Olark's easy interface, simple instructions, and affordable price makes it available for a wide variety of users. Its quality of work in terms of generating leads and detailed customization makes it suitable for big businesses and freelancers both.