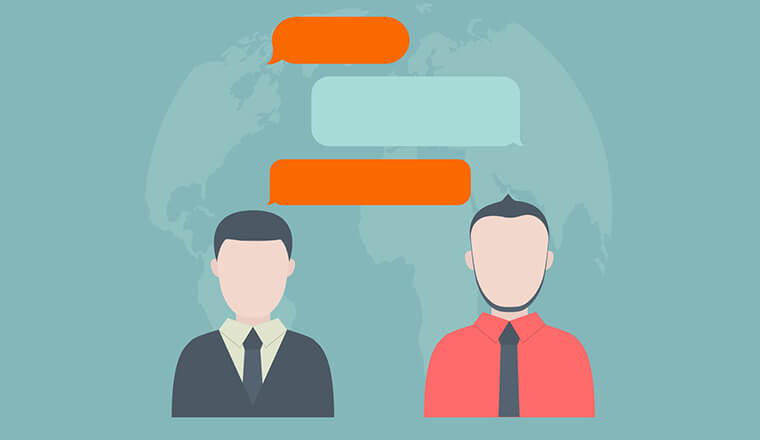 Chatbots Vs Human Chat Agents- What's Your Best Bet?

Happy customers are the key to a successful business but what does it take to keep your customers happy? Do even best chatbots bear that mettle?
Yes, your product quality also matters a lot but what else matters more is good customer service. Why?
According to Harvard Business Review, customer service stats show that new customers cost anywhere between 5 and 25 times more expensive than retaining existing customers.
Makes sense, right?
But, how can you improve your customer service department? The simplest way to do it is by providing assistance to your customers in the time of need.
While there are a plethora of benefits of using a chatbot for website or the live chat agents, you need to know what would suit your business the most.
Want to chat outsource for the growth of your business? Here's is the right article that will help you to get the best fit. But firstly, are you aware of what chatbots are?
What the heck is a Chatbot?
Chatbots has become the new buzzword in the customer service industry. As per a report from Business Insider, by 2020, over 80% of businesses are expected to have some sort of chatbot automation implemented. But does that mean the end of live chat agents?
According to WordStream, "Chatbots – also known as "conversational agents" – are software applications that mimic written or spoken human speech for the purposes of simulating a conversation or interaction with a real person."
To put simply, a chatbot is a form of programmed conversations that is developed to simplify human interaction with customers. Be it healthcare chatbot, HR chatbot, e-commerce chatbot, architecture chatbot or a real estate chatbot, you can have your own customized chatbot as per your industry.
Now that you know what chatbots are, do you know why should you consider either chatbot customer service or live chat agents customer service?
Be it a small scale business or a multinational company, businesses are always looking for methods that they can implement in order to continuously improve their customer service department and provide better assistance to their customers. According to Accenture, $1.6 trillion is lost by companies in the United States due to customers switching as a result of poor customer service.
So, if you want to make your business thrive, you need to make sure that your business is able to provide the best assistance to your customers. And to help you to choose between the most suited chat assistance for your business, here is a detailed comparison between both Chatbots and Live Chat Agents.
Understanding Chatbots
Pros of Chatbots
The Ability of Multitasking
According to a survey by Lithium, 78% of customers who complain to a brand on Twitter expect a response within an hour.
The biggest asset of having a chatbot for website is that it can handle hundreds of requests at once. And you would also not need to buy numerous chatbots, only one is enough to handle several. Although that definitely asks for the best chatbot with robust capabilities which mostly comes a little expensive & need core technical skills for the implementation.
No Need for Human Interaction
What's the point of getting a chatbot for website when humans are still needed to operate? There is no point of course.
Yes, you might need to instruct even the best chatbots time to time if you need to change something in the process. But if you don't need, a chatbot can easily work on its own without your intervention.
Luckily, you do not need to know how to build a chatbot & that is great relief. All you need to do is, get a chatbot, instruct it and let it work on its own. Also, you might need to keep a check on it every now and then to see whether it's working fine or not.
Speedy Response Time
As chatbots are software, they are designed to look upon pre-programmed answers to answer any query, it takes hardly a few seconds for them to answer.
Though they might not be able to answer all kinds of questions they do provide instant answers no matter even it's just "I didn't get your question."
Cons of Chatbots
Chatbots Can Only Answer Very Specific Questions
While chatbots can give instant answers and can also handle a high volume of requests at once, it can only answer questions that are pre-programmed.
A query made by any customer needs to be in context, simple and specific as well. Even the best chatbots would be able to answer questions that are already set by the instructor. And the instructor might also need a few months to program the chatbot for website before getting it to the training phase.
No Human Touch
Though this was enlisted as an asset first, talking to a bot might seem annoying sometime. According to Salesforce, 75% of customers will want to shop with businesses that offer personalized experiences by 2020.
Healthcare chatbot & HR chatbot are 2 of the most sensitive chatbot customer service. There are times when your customers or employees need to explain their problems in depth and interacting with the chatbot customer service in the first place can annoy them up to a great extent. Even the best chatbots can barely empathize.
For example, a human live chat agent might be able to provide you with some alternatives to the solution while the chatbot might not be able to provide any at all.
Even One Wrong Spelling Can Screw a Chatbot
Just like one wrong line in a program can spoil the entire output, a single wrong spelling can confuse the chatbot. Chatbots are way sensitive to spellings than human chat agents.
Real Estate chatbots & architecture chatbots are considered to be dealing with high ticket business size & need to be as rational as possible, but are they indeed?
Though there are some highly sophisticated chatbots for website that are able to understand the question even with spelling errors they are still not widely used. Also, they are too much costlier than the ones which are less rational.
Understanding Human Chat Agents
Till now you've learned a lot of chatbot customer service in the article but are you aware of how powerful plus useful are human chat agents?
, Generation Z wants customer experiences that integrate with technology, offering not only personalized attention but interactions that are instantaneous and entertaining according to customer service statistics.
In order to provide your customers with the best customer service experience, it is important for a business to integrate technology along with personalized touch and that's where live chat agents come to play.
Live chat agents are pre-trained people who are responsible for providing 24×7 assistance to your customers by answering queries and assisting customers through chat. In the process, both human touch and technology are applied in a tandem.
As Kristen Smoby says, "In an era when companies see online support as a way to shield themselves from 'costly' interactions with their customers, it's time to consider an entirely different approach: building human-centric customer service through great people and clever technology. So, get to know your customers. Humanize them. Humanize yourself. It's worth it."
But is that it? No, there is a lot more to know about live chat agents. Starting with the pros, here is all you need to know about live chat agents-
Pros of Live Chat Agents
Can Answer a Variety of Queries
As suggested above, chatbots aren't able to assist to questions out of their pre-installed data but on the flip side human agents can do it up to a great extent.
As human agents are able to assist the customers with specific answers along with their alternatives, it makes human agents a better option than chatbots. Furthermore, such interactions are more preferred by customers because it saves both time and efforts.
Provides the Human Touch
Talking to a bot is not preferred by a lot of people. Some people need to talk to a real human chat agent for explaining their issue in the best possible yet easiest way.
As per a report from Glance, 70% of unhappy customers whose problems are resolved are willing to shop with business again. And as a human agent might not leave the customer side until the issue is resolved which can't be expected from even the best chatbots, makes human chat agents a better option.
Better Quality of Communication
An issue with the chatbot regarding the spelling error has been aforementioned but is that the same with human agents?
No, it's not. Human agents are very much wiser than chatbots when it comes to understanding a question. Moreover, the knowledge of live chat agents is not limited up to a pre-installed set of questions like a chatbot. Also, the knowledge and helping capacity of human agents keep getting better with time and experiences which is not possible with a chatbot.
Can Go The Extra Mile
At the end of the day, the goal of any business is to make considerable sales and hence make profits. But as chatbots for website are basically designed for solving customer issues, they can't be expected to do more than this.
Human agents, on the other hand, can also go the extra mile by communicating with customers in a way that appeals to the customers and convinces them to buy from the website. Be it generation qualified sales leads, cross selling or up selling, human live chat agents the go-to. What else would you need?
Cons of Human Chat Agents
Availability Hours
A human no matter how active or healthy he or she has some working limitations. Be it an individual or a team, they all can only work a few hours, unlike a chatbot that can continuously work 24×7.
Though you can try live chat outsourcing & have the experts take care of your live chat round the clock.
Needs Hiring Staff
In order to hire the best support agents and train them in the right manner, you need a separate team. The hiring team should be able to handpick the most eligible agents and the training team should be able to teach them all the ins and outs of your industry.
But, you can consider live chat outsourcing & let the professionals take care of the live chat while you focus on what matters the most to your business.
No Multi-Language Support
Unlike a chatbot, all human agents are not able to provide assistance in every language. In order to have such human agents team that is bilingual, you may need to spend a chunk of bucks.
Although, not all kind of chatbots are able to provide multi-language support unless they are designed to do so.
What's Your Best Bet?
"If a customer likes you—and continues to like —they will continue to do business with you. If they don't, they won't." – Paul Greenberg.
Yes, your customers need to be your priority if you want to make your business successful and customer service is indeed one of the biggest factors that influences your customers' satisfaction.
Both chatbot customer service and human live chat agents are great as chat outsource options but you need to be very specific while choosing the right one for your business.
While chatbots can perform plenty of tasks, live chat agents can still be considered the better option. Be it a small business or a multinational company, AI is still not able to compete with humans when it comes to making quick decisions and understanding the need of customers in a better way. Furthermore, well trained live chat agents can also influence your prospects' purchasing decision.
But at last, it's your call, use the listed pros and cons of both chatbots as well as human live chat agents and then go for the perfect fit.
Choose anyone as your chat outsource option and push your customers to keep coming back for more.